Add to Cookbook

Summer Fresh Salmon Salad With Tarragon Cream Dressing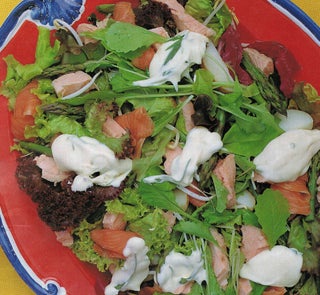 Add variety with the type of salad greens that you use. Leaves such as rocket, watercress, snowpea shoots, red oak , endive or whitloof and cos lettuces now available in good vegetable shops or supermarket stores , will certainly make your salad have lots of life. Use plainer style lettuces like buttercrunch and iceberg to "fill-out" the salad.
Ingredients
1 side salmon, pin boned removed
4 tablespoons lemon olive oil
1 red pepper
1 yellow pepper
mixed salad greens for 8
2 spring onions, sliced
150 grams asparagus or round beans, blanched
Tarragon Cream Dressing
1 egg
2 tablespoons castor sugar
3 tablespoons tarragon vinegar
½ cup cream
2 tablespoons chopped tarragon
Method
Season the meat side of the salmon with the oil, salt and pepper. Cover and allow to stand until the salmon reached room temperature.
Preheat the barbecue hot plate and place the salmon on meat side don. Cook for 5 minutes over a moderately hot heat and then turn over. Continue cooking with the lid down for a further 5-8 minutes or until the salmon in medium rare. Remove from the heat, cover and seat side.
Grill the red and yellow peppers on well-oiled barbecue grills or hot plate until the skins are blackened. Set aside to cool and then peel away the charred skin. Cut into strips or dice.
Arrange the salad greens on a large platter and scatter over the pepper strips, spring onions and asparagus or beans. Break the salmon into large chunky pieces and place in and around the salad leaves. Dress with the Tarragon Cream Dressing.
Tarragon Cream Dressing
In a heat proof bowl beat the egg and sugar together until well mixed, then stir in the tarragon vinegar.
Put the bowl over the top of a saucepan full of simmering water and stir constantly until the mixture is thick. Remove from the heat and allow to cool thoroughly. Alternatively cook the mixture on medium powder in the microwave for about 5 minutes, stirring every minute until thick.
Beat the cream until is just begins to thicken. Fold the cream into the cooled egg mixture with the tarragon leaves.
Cooks Tips
- The easiest way to peel the pepper is to pull out the core and then to hold them under running cool water while peeling away the charred skin. - Do not allow the peppers to steam too long as they will over heat and cook more than you want them too.