Add to Cookbook

Sticky chilli-glazed pork spare ribs
15 minutes, marinating time: minimum 1 hour or overnight
1 hour
4-6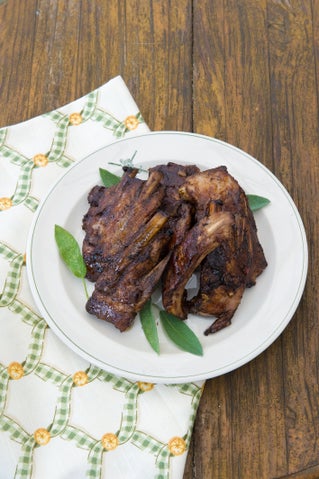 The muscovado sugar gives these pork ribs a rich treacle-like taste while the balsamic vinegar helps cut though their richness.
Ingredients
½ cup muscovado sugar
½ cup light soy sauce
¼-½ cup balsamic vinegar
1 teaspoon minced garlic
1 mild red chilli, deseeded and diced (or use ¼ teaspoon chilli powder)
1 kilogram pork spare ribs
Method
Mix together the sugar, soy sauce, vinegar, garlic and chilli. Place the pork spare ribs in a sealable bag and pour in the glaze. Seal and turn to coat all spare ribs. (Alternatively, marinate in a sealable container). Refrigerate for at least 1 hour or overnight.
Preheat the oven to 190ºC. Line a baking tray or ovenproof dish with foil. Transfer the pork spare ribs and the marinade onto the prepared tray or dish.
Bake the spare ribs in the preheated oven for 45-50 minutes or until well glazed, turning once or twice during cooking.