Add to Cookbook

Steak And Kidney Pie With Prunes And Port
30 minutes
½ hours for casserole plus 35 minutes for pie
6-8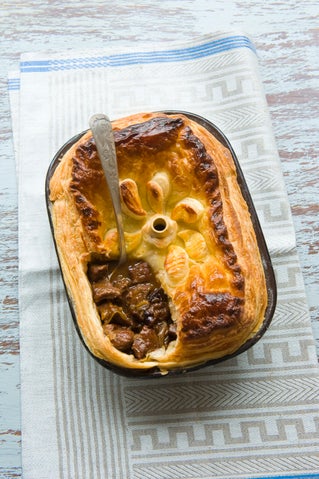 Enrich a traditional steak and kidney pie with lashings of port and juicy, plump prunes.
Ingredients
750 grams lean crosscut blade or chuck beef steak
250 grams kidney, diced
25 grams butter
1 onion, peeled and sliced
1 tsp minced garlic
2 tblsp flour
1 cup beef stock
½ cup port, red wine or extra beef stock
12-16 prunes
1 bouquet garni
1 tblsp chopped fresh thyme or parsley
400 gram packet frozen block puff pastry, defrosted
1 egg, beaten for glazing
Method
Cut the blade steak into even 2cm pieces and brown well in a dash of oil, in a hot flameproof casserole dish. This is probably best done in 2-3 batches. Set aside.
Add a little more oil if necessary and quickly brown the kidneys; set aside. Add the butter to the pan and gently cook the onion and garlic until tender. Stir in the flour and cook for one minute more until frothy. Gradually add the beef stock, stirring continuously until the sauce thickens. Stir in the port, prunes and bouquet garni, then return the steak and kidneys to the sauce and cover.
Simmer very gently for 1-1¼ hours or until tender, or alternatively cook in the oven at 180ºC for the same length of time.
Cool, discard the bouquet garni and season with fresh thyme, salt and pepper. Spoon filling into a 23cm pie dish.
Roll the pastry out on a lightly floured surface to 3mm thick, then cut a piece big enough for the top of the pie. Use the remaining pastry to cut 2-3 1cm-wide strips to go around the edge of the dish. Brush the edge of the dish with beaten egg and press the strips evenly around the edge. Brush these pastry edges with beaten egg and roll the pie top over. Press the edges together and use any remaining pieces to decorate, brushing then with beaten egg. Cut a small 1cm-wide hole in the centre of the pie top so the steam can escape.
Bake the pie at 220ºC for 25-30 minutes until the pastry is well risen and golden, and the filling is hot.
Cooks Tips
When cooking with kidneys, it's best to remove the kidney core. To do this, simply slice each kidney in half horizontally, cut out and discard the creamy core. Dice the kidney. A bouquet garni is prepared from a bay leaf or two and a few parsley and thyme sprigs held together with string. If using dried bouquet garni, be wary of their overpowering nature. The dried versions should be used only sparingly. If you are using dried herbs in palce of fresh, half the quantity of fresh herbs listed in the recipe. If you are re-rolling puff pastry, layer the leftover pieces on top of each other and re-roll. Do not knead together as they will not blend well.