Add to Cookbook

Spinach and gruyere fritters
30 minutes (includes preparation time)
4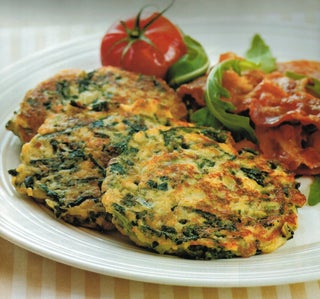 Snap-frozen spinach leaves, now available in supermarkets, are ideal to have on hand in the freezer as they can be used as the basis for any number of dishes. These fritters need a good-flavoured cheese to work with the spinach, and don't forget the nutmeg - it's a must with anything spinach.
Ingredients
200 grams frozen spinach, defrosted and well squeezed
1 cup cold mashed potato
100 grams gruyere cheese, grated
2 spring onions, trimmed and chopped
2 tablespoons self-raising flour
3 eggs, beaten
½ teaspoon each salt, nutmeg and freshly ground pepper
Method
Chop the spinach roughly and place in a bowl. Add the mashed potato, cheese, spring onion, flour, eggs and seasonings. Lightly beat together.
Heat a knob of butter in a frying pan and cook large spoonfuls of the mixture for about 2 minutes, then flip and cook a further 2 minutes until golden, hot and cooked through.
Serve the fritters with chicken or cold sliced meat and salad or just with grilled bacon, tomatoes and a few salad leaves.
Cooks Tips
- Add a handful of chopped herbs with the spinach. Flavours that work well include parsley and chives. - Substitute the potato with leftover cooked and mashed yellow-fleshed, red-skinned kumara. - Use half mashed potato and half mashed parsnip. - To squeeze out the moisture from frozen or cooked spinach, place the spinach between 2 plates and, holding them over the sink, squeeze the plates together so the excess water falls into the sink. - 100 grams grated cheese equals 1 cup well packed.