Add to Cookbook

Spicy tomato lamb shanks
10 minutes
30 minutes, resting time 15 minutes
4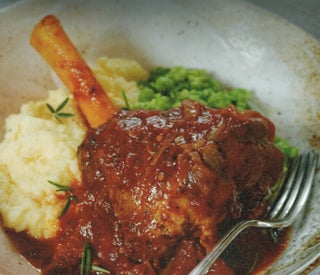 This winter standby is ready to serve in less than an hour.
Ingredients
4 lamb shanks
1 onion, peeled and sliced
500 gram jar tomato-based pasta sauce
1 teaspoon paprika
½ teaspoon ground chilli
½ cup beef stock or water
Method
Heat a dash of oil in the pressure cooker and brown the lamb shanks well. Set aside.
Add the onion and cook until tender. Return the lamb shanks to the cooker and add the pasta sauce, paprika, chilli and stock or water. Close and lock the lid.
Bring the cooker to high pressure over a high heat. When the pressure has been reached, reduce the heat to stabilise the pressure and cook for 30 minutes.
Turn the heat off and leave the pressure cooker to stand for 15 minutes until the cooking indicator has completely sunk back. Give the pressure cooker a good shake to remove any steam bubbles before remove the lid and serving.
Cooks Tips
Jazz it up by adding ¼ cup sundried tomato pesto or diced sundried tomatoes, 2-4 diced rashers bacon and 1 tablespoon fresh rosemary. Serve alongside creamy polenta to create a dish fit for entertaining.