Add to Cookbook

Spicy pumpkin fritters
30 minutes (includes preparation time)
4-6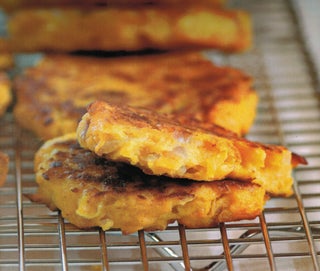 Pumpkin is a fabulous vegetable to add spices to as it has a natural affinity with fragrant and pungent flavours. Try throwing in a handful of currants for a touch of sweetness.
Ingredients
250 grams raw pumpkin, peeled
½ red onion, peeled and finely diced
¼ cup self-raising flour
2 eggs
3-4 tablespoons your favourite spice paste
grated rind and juice 1 lime
Method
Grate the pumpkin and place in a bowl with the onion, flour, eggs, spice paste and lime rind and juice. Season well with salt.
Heat a knob of butter in a frying pan and, when hot, cook large spoonfuls of the mixture for about 5 minutes over a moderately hot heat, turning once, until the fritters are well risen, golden and the pumpkin is cooked. Serve fritters with cold meat and salad, grilled meats, casseroles, curries or schnitzels.
Cooks Tips
- I used an Indonesian spice paste though other spice pastes such as Indian or even Thai flavours can also be used. - Replace pumpkin with grated starchy potato or orange-fleshed kumara. - Try a combination of potato and parsnip instead of the pumpkin and use spring onion in place of red onion. - Add a handful of your favourite herbs like Vietnamese mint with Thai paste or coriander if using a Tandoori paste.