Add to Cookbook

Spicy lamb with dried fruits
30 minutes
in the slow cooker low 6-8 hours, high 3-5 hours
8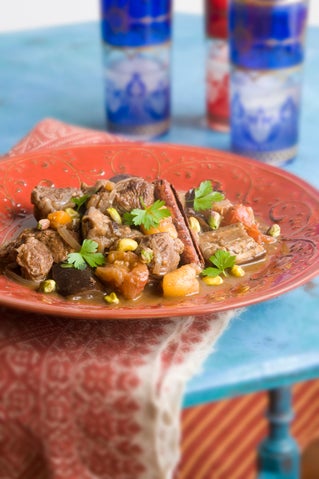 Redolent with the sweet spices used in classic Persian dishes, serve this lamb for a special night with pots of thick Greek-style yoghurt to accompany and piles of couscous.
Ingredients
1 kilogram boneless lean lamb for casseroling
1 medium-sized eggplant
2 eating apples, peeled
2 onions, peeled and diced
3-4 juicy tomatoes, quartered
2 green capsicums, thickly sliced
½ cup dried apricots, chopped
½ cup pitted prunes, chopped
4-6 whole allspice berries or 1 teaspoon ground allspice
1 cinnamon stick or ½ teaspoon ground cinnamon
4-6 whole cloves or ½ teaspoon ground cloves
1 teaspoon each salt and pepper
1 cup beef stock or water
½ cup lemon juice
Method
Turn the slow cooker on to low to pre-warm while gathering and preparing the ingredients.
Cut the lamb and eggplant into 2.5-3cm pieces. Cut the apples into quarters or sixths and cut away the core.
Heat a decent dash of oil in a large frying-pan. When hot, brown the lamb well on all sides. This is best done in batches so the lamb does not stew. Brown the onions well.
Into the pre-warmed slow cooker put the lamb, eggplant, apples, onions, tomatoes, capsicums, apricots, prunes, allspice berries or ground allspice, cinnamon stick or ground cinnamon, whole cloves or ground cloves, salt and pepper.
Add the stock or water and lemon juice, and gently lift the ingredients with a large spoon to mix as well as possible. Cover with the lid.
Cook on low for 6-8 hours, or on high for 3-5 hours.
Serve garnished with plenty of parsley and a few pistachio or almond nuts with warm soft breads for soaking up the spiced juices.
Cooks Tips
Variations - Use beef in place of lamb. - Use a pre-made Moroccan spice blend in place of all the spices, allowing about 2 tablespoons. Flavours will vary from brand to brand. - When fresh tomatoes are out of season, use a 400-gram can of chopped tomatoes. - The spices in the casserole are pretty up-front. If you are not accustomed to sweetly spiced meats, cut the amount of spices in half.