Add to Cookbook

Spicy Lamb And Cashew Kebabs On Rice Pilaf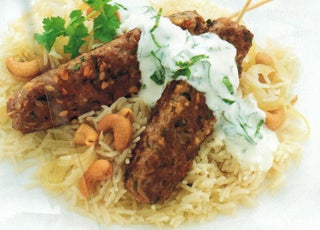 Quick and tasty meal for the whole family to enjoy.
Ingredients
500 grams lean minced lamb
1 small red onion, peeled and chopped
1 tsp minced garlic
100 grams roasted cashew nuts, chopped
2 tblsp finely chopped coriander
grated rind and juice 2 limes or 1 lemon
1 red chilli, deseeded and chopped
1 tsp toasted cumin seeds
1 onion, peeled and sliced
1 cup basmati rice
5 green cardamom pods, lightly bruised with a knife
½ cup natural yoghurt
1 tblsp finely sliced mint
Method
Combine in a bowl the lamb, red onion, garlic, chopped cashews, coriander, half the lime rind and juice, chilli and cumin seeds. Mix together and season.
Divide the mixture into 8 even-sized amounts, and use wet hands to mould them into sausages. Thread onto pre-soaked bamboo skewers, cover and chill for 10 minutes.
Heat a dash of oil in a saucepan and gently fry the onion until tender, but not brown. Add the rice and cardamom pods, and stir for 1-2 minutes or until the rice is tender and the liquid has evaporated.
Barbecue kebabs over a moderate heat on a pre-heated oiled hot plate for 3-4 minutes each side till cooked.
Mix the yoghurt, mint and remaining lime rind and juice together, and serve with the kebabs and rice pilaf, garnished with a few whole cashews.