Add to Cookbook

Spiced sugar-glazed corned beef
10 minutes
in the slow cooker: 7-9 hours, resting time: 2-3 hours, roasting time: 1 hour
10-12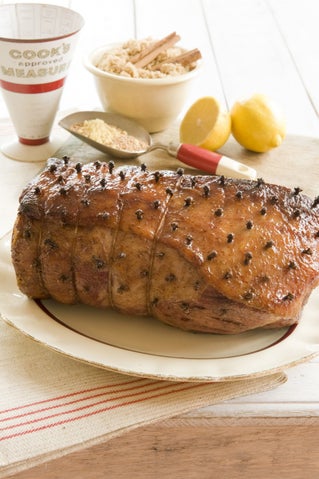 This corned beef requires double cooking. First it is gently simmered in a flavoursome stock and then richly glazed and baked to tender perfection. For the finest result, make sure you leave the beef to cool in the liquid before roasting.
Ingredients
1.5-2 kilogram piece of corned beef with a good fat layer
1 onions, peeled and halved
2 carrots, washed and chopped
1 bay leaf
1 tablespoon whole cloves
½ cup brown sugar
1 teaspoon mustard powder
1 teaspoon ground cinnamon
½ teaspoon ground allspice
juice of one lemon
Method
Turn the slow cooker on to low to pre-warm while gathering and preparing the ingredients.
Put the corned beef into the pre-warmed slow cooker. Scatter the onion, carrots and bay leaf around the meat. Add sufficient cold water to cover the beef. Cover with the lid.
Cook on low for 7-9 hours (it is not recommended to cook this on high).
Turn off and leave the corned beef to cool in the liquid for 2-3 hours. At this stage the corned beef can be well-wrapped and refrigerated overnight.
Preheat the oven to 180ºC. Line a deep-sided baking tray with foil.
Place the meat on the prepared tray. Stud the beef with the whole cloves. Mix the brown sugar, mustard powder, cinnamon and allsppice together with the lemon juice and spread half of the mixture over the beef.
Bake in the preheated oven for 1 hour, basting with the remaining glaze occasionally.
Serve with your favourite vegetabes. The mustard sauce is an ideal accompaniment to this dish. Keep leftovers well wrapped and use in sandwiches or salad.
Cooks Tips
- The cut of meat photographed is called the silverside. It is a lean fillet portion with an even covering of fat, ideal for this recipe.