Add to Cookbook

Spiced mini lamb roast with pears and quince jus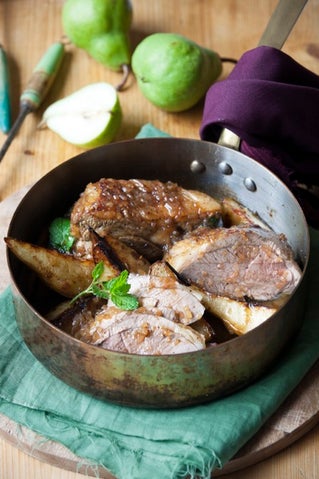 Lamb is no longer simply sold as a whole leg but as smaller, succulent, time-saving cuts well worth turning the temperature up for.
Ingredients
2 mini lamb roasts, about 350 grams each
2 tablespoons Moroccan spice blend
2 pears, quartered and cored
2 tablespoons melted butter
3 teaspoons sugar
Quince jus
¼ cup finely chopped onion
1 teaspoon minced garlic
¾ cup sherry
¾ cup light beef stock
3 tablespoons quince paste
Method
Preheat the oven to 200ºC.
Rub the lamb liberally with the spice rub and place in an ovenproof frying pan. Brush the pears with the melted butter, sprinkle with the sugar and place beside the lamb.
Roast in the preheated oven for 30-35 minutes. The juices should be pink and clear. If not, cook a further 5-8 minutes.
Remove lamb and pears from the pan and place the pan over direct heat. Add the onion and garlic and cook 1 minute. Pour in the sherry and allow to reduce by half. Add the stock and boil briskly until reduced by half. Stir in the quince paste until melted. Season with salt and pepper.
Carve lamb and serve with the Quince Jus, Roasted Pears and vegetables.
Cooks Tips
- Take the meat from the refrigerator 30 minutes before cooking to bring it to room temperature.
- Time permitting, sear the roast quickly to improve colour and flavour. This is particularly useful with smaller cuts that have a short cooking time.
- If not searinig, roast at 200ºC. If searing first, roast at 180ºC to complete the cooking.
- Rest the meat after roasting and before carving for 5 minutes to allow the meat fibres to relax and re-absorb some juices.
- Carve across the grain, that way the meat is far more tender to eat.
- You can use quince jelly or jam as a subsitute the quince paste.