Add to Cookbook

Spiced Courgette Chocolate Cake
15 minutes
1 - 1 1/4 hours
Makes a 23cm Cake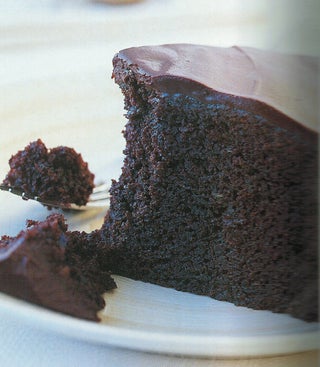 A rich tasting chocolate cake that makes great use of summers cougette bounty.
Ingredients
250 grams butter, softened to room temperature
1½ cups caster sugar
½ cup flavourless oil - try light olive oil
2 eggs
2¾ cup flour
¼ cup cocoa
1 teaspoon baking powder
2 teaspoons mixed spice
1¼ teaspoons baking soda
1/2 teaspoon salt
3 courgettes trimmed and grated (1½ cups)
½ cup unsweetened plain yoghurt
Chocolate Glaze
200 grams dark chocolate, chopped
¾ cup cream
Method
Beat the butter, sugar and oil together until thick and creamy. Beat in the eggs.
Sift the flour, cocoa, baking powder, Chinese five spice or mixed spice, baking soda and salt into the creamed mixture and fold in with the courgettes and yoghurt.
Turn into a well-greased and paper-lined 23cm round cake tin.
Bake at 160ºC for 1-1¼ hours or until cooked. Cool before pouring over the chocolate glaze.
Chocolate Glaze
Melt the chocolate and cream together in a microwave on high power for 2 minutes or until the chocolate has almost melted. Stir until smooth.