Add to Cookbook

Spiced Cold Roast Fillet Of Beef
20 minutes, chilling time: overnight
25 minutes
6-8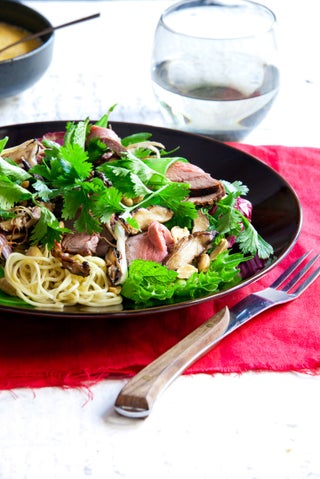 Roast beef is a classic favourite – but try it spiced and served cold with Ginger and Noodle Salad. The beef needs to be the same thickness throughout. If you have a tail-end piece of fillet, turn the tail end underneath to create an even thickness and tie to secure. Marinating the meat overnight in this mixture draws out moisture from the beef and adds in fragrant flavours. The final texture of the beef is very moist but dense. It is delicious in summer.
Ingredients
750 grams piece beef fillet, trimmed
½ cup brown sugar
½ cup flaky salt
1 teaspoon Chinese five-spice
1 teaspoon ground galangal or laos
1 teaspoon minced ginger
1 teaspoon minced garlic
grated rind of 1 lime
2 tablespoons Indonesian soy sauce
¼ cup dry sherry
1 tablespoon sesame oil
Method
In a bowl, mix together the sugar, flaky salt, Chinese five spice, galangal, ginger, garlic, lime rind, soy sauce, sherry and sesame oil.
Tie the beef at intervals with string to keep it in shape. Place into a snap lock bag or similar with the marinade and massage to coat. Seal and refrigerate overnight or for 12 hours, massaging and turning occasionally. Remove from the bag, rinse lightly under cold water and pat dry.
Preheat the oven to 220ºC.
Heat a dash of oil in a frying pan and when very hot, add the beef and seal quickly on all sides before transferring to an oven tray.
Roast in the preheated oven for 15 minutes only. Cool for 15 minutes, wrap in foil and refrigerate 4 hours or until cold. Serve sliced with Ginger and Noodle Salad (see recipe on our website).