Add to Cookbook

Spiced Cherry French Toasts With Crispy Prosciutto
15 minutes
15 minutes
6-8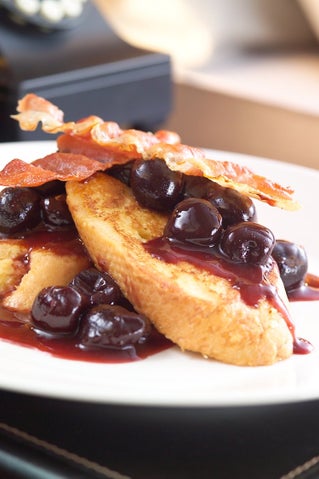 This is a great way to turn simple French Toast into a very rather special meal.
Ingredients
300 gram packet frozen pitted cherries
1/2 teaspoon ground cinnamon
1 tablespoon honey
1 tablespoon Kirsch or use vodka
1 teaspoon arrowroot or cornflour
2 tablespoon cold water
1 loaf French bread or use a loaf of sour dough
3 eggs
1/4 cup cream
1/4 cup milk
8 slices prosciutto
Method
In a saucepan gently heat the frozen cherries with cinnamon, honey and Kirsch or vodka until thawed and hot; do not boil. Dissolve the arrowroot or cornflour in cold water and stir into the cherries, stirring gently over a low heat until thickened. Set aside.
Cut the bread diagonally into 2cm thick slices. In a shallow bowl beat the eggs, cream and milk together with a whisk and season with salt and pepper. Dip both the sides of each bread slice into the egg mixture. Heat a little butter in a pan and cook the French toast, turning once until golden on both sides. Keep warm in at 120 degrees Celsius oven while you cook the remaining French toast.
Heat a little oil in a pan and cook the prosciutto until crispy. Serve the French Toast with warm spiced cherries and topped with crispy prosciutto.
Cooks Tips
For richer French Toast, use 1/2 cup cream, omitting the milk.
In place of prosciutto, use pancetta or bacon.