Add to Cookbook

Spiced Apple And Walnut Cake
20 minutes
45-50 minutes
Makes 1x 20cm cake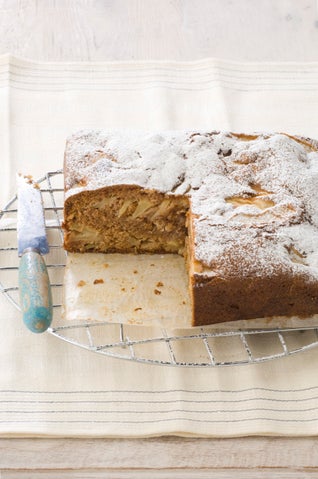 Is it a dessert...is it a cake...whatever, it keeps and makes a great dessert served with custard or cream.
Ingredients
75 grams butter, melted
1 cup sugar
2 eggs, beaten
2 tblsp golden syrup
3 medium-sized apples, peeled and thinly sliced
2 cups flour
2 teaspoons baking soda
1 teaspoon ground nutmeg
2 teaspoons ground cinnamon
½ cup walnuts halves
icing sugar for dusting
Method
In a large bowl put the melted butter, sugar, eggs and golden syrup and mix well. Add the apple slices and toss to coat.
Sift the flour, baking soda, nutmeg and cinnamon together and fold into the apple mixture. Stir only until mixed.
Turn into a well-greased, paper-lined 20cm square cake tin and place the walnuts on top.
Bake at 180ºC for 45-50 minutes, until a cake skewer is inserted and comes out clean. Cool in the tin for 10 minutes before turning out onto a cake rack. Sprinkle with icing sugar to serve and accompany with custard or cream.
Keep the cold cake in an airtight container and eat within 3-4 days.
Cooks Tips
Make the cake a day in advance and if required warm reheat in the microwave for 4-5 minutes on high. For a quick delicious custard, buy prepared custard, thin with milk and warm gently to serve with the cake.
Always allow cakes to stand in the tin for 10 minutes before turning out. This allows the cake to set. Usually if you turn the cake out of its tin after removing from the oven, it ends in disaster, with broken pieces everywhere.
Use pears and nashi in place of apples.
Use half wholemeal and plain flour. The moistness of the apples works well with the coarses wholemeal flour.