Add to Cookbook

Speedy Chicken Cacciatore
15 minutes
8 minutes, resting time 15 minutes
4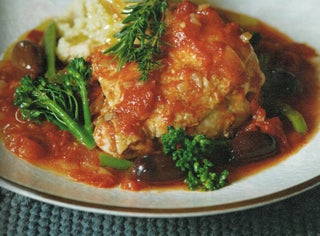 Cacciatore is the Italian word for "hunter" and any dish with this name will normally contain tomatoes, onions, mushrooms, herbs and wine.
Ingredients
4-6 chicken leg and thigh portions
1 onion, peeled and finely sliced
1 teaspoon minced garlic
½ cup black olives
1 bouquet garni, optional
1 tablespoon fresh thyme or rosemary leaves
1 green pepper, deseeded and sliced
400 gram can chopped tomatoes
½ cup white wine or chicken stock
2 tablespoons tomato paste
3 anchovy fillets
Method
Halve the chicken leg and thigh portions.
Heat a dash of oil in the pressure cooker and brown the chicken pieces well on all sides. This is best done in batches to avoid the chicken from stewing. Remove and set aside.
Add the onion, garlic and a dash more oil and brown lightly.
Return the chicken to the pressure cooker. Add the olives, bouquet garni if using, thyme or rosemary, green pepper, tomatoes, wine or chicken stock, tomato paste and anchovies.
Close and lock the lid. Bring the cooker to high pressure over a high heat. When the pressure has been reached, reduce the heat to stabilise the pressure and cook for 8 minutes.
Turn the heat off and leave the pressure cooker to stand for 15 minutes until the cooking indicator has completely sunk back. Give the pressure cooker a good shake before removing the lid and serving with Roasted Garlic Potato Mash (see recipe on this website).
Cooks Tips
You could use a whole chicken. A 1.5kg-1.6kg chicken needs 20 minutes cooking time once pressure has stabilised.