Add to Cookbook

Spanish tapa beans
soaking time 12 hours or overnight, preparation time 30 minutes
low 9-10 hours, high 4-5 hours
6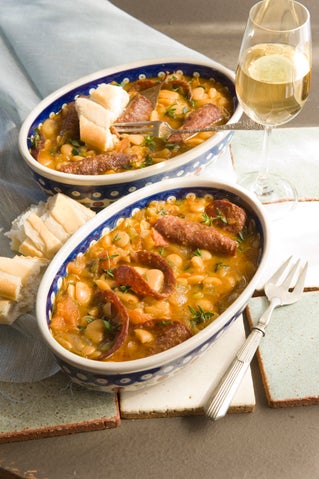 Sherry has been much maligned as a grandmother's drink, bought by the flagon and kept in the hall cupboard only to find the light of day at Christmas in the trifle! But a delicious dry fine sherry, well chilled, gives you a small but significant taste of Spain, and such exquisite vino deserves a good nibble to accompany it at any time of the year, like these beans.
Ingredients
2 cups dried haricot or small lima beans
½ cup olive oil, virgin olive oil is nice here
200 grams salami, thinly sliced
2 red onions, peeled and cut into eighths
2 green capsicums, diced
1 tablespoon minced garlic
½-1 teaspoon loosely packed saffron threads
1 teaspoon dried oregano
1 bay leaf
6 cups vegetable stock or water
1 cup dry sherry
Method
Cover the beans with 3 times the amount of water to beans. Cover and set aside for 12 hours or overnight. Drain well.
Turn the slow cooker on to low to pre-warm while gathering and preparing the ingredients.
Heat a dash of oil in a heavy-based frying-pan and, when hot, pan-fry the salami until the fat runs and the slices become slightly crispy around the edges. Set aside.
Add the onions and capsicums to the pan with the residue fat from the cooking of the salami and cook the vegetables until browned.
Into the pre-warmed slow cooker put the well-drained beans, olive oil, salami, onions, capsicums, garlic, saffron, oregano, bay leaf, stock and sherry. Stir well to mix the ingredients evenly and cover with the lid.
Cook on low for 9-10 hours or on high for 4-5 hours, or until the beans are tender.
Serve in tapa or other individual shallow dishes with plenty of warm bread to soak up the juice.
Cooks Tips
Variations - Add a cup of halved, stuffed green olives. - Add extra flavour with a bouquet garni. - Add 1-2 teaspoons smoked paprika with the saffron. - In place of salami, use 200 grams thinly sliced bacon or pork belly. - Vary the beans - try borlotti or cannellini beans. - Stir in 12-20 semi or sun-dried tomato halves before serving.