Add to Cookbook

Spanish pork loin
10 minutes, marinating time: overnight
1¼ hours
8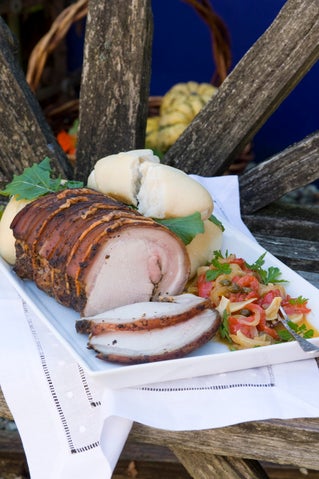 Pork is great at soaking up the heady Spanish flavours of oregano, garlic, paprika, sherry and olive oil, resulting in a most delicious roast of pork.
Ingredients
4 teaspoons minced garlic
½ cup finely chopped fresh oregano or 3 tablespoons dried oregano
1 tablespoon finely chopped fresh thyme or 1 teaspoon dried thyme
1 tablespoon finely chopped fresh parsley or 2 teaspoons dried parsley
1 tablespoon paprika
¼ cup dry sherry
¼ cup oil, virgin olive oil is good here
1 kilogram boneless pork loin, skin well scored
Method
In a large resealable bag, mix together the garlic, oregano, thyme, parsley, paprika, sherry and oil. Add the pork and massage firmly to completely coat the loin. Seal and refrigerate overnight.
Preheat the oven to 180ºC. Line a roasting dish or baking tray with baking paper.
Remove the pork from the fridge 30 minutes before cooking. Transfer to the prepared baking tray.
Roast in the preheated oven for approximately 1¼ hours or until the pork is cooked. Test by inserting a skewer into the centre of the pork, if the juices run clear then the pork is cooked. If the juices are still pink, return the pork to the oven for an additional 10 minutes' cooking time before testing again. When done, remove from the oven, cover with foil and rest for 10-15 minutes before carving.
Serve hot, warm or cold with the chargilled red capsicum and paprika pickle, bread rolls, salad greens and olives, if wished.
Cooks Tips
- Pork is cooked when it reaches 71ºC on a roast-meat thermometer. - For a smoky flavour, use a smoked paprika.