Add to Cookbook

Spanish beef and potato stew
without browning 15 minutes, with browning 25 minutes
low 6-7 hours, high 3-4 hours
6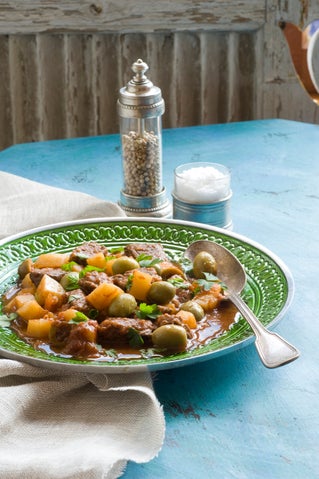 Serve warm crusty bread with this gutsy-flavoured stew to mop up the juices.
Ingredients
750 grams lean beef for casseroling
750 grams waxy potatoes, peeled if wished
1 large onion, peeled and roughly chopped
2 large juicy tomatoes, diced, optional
½-1 cup stuffed green olives, halved
2-3 teaspoons minced garlic
400 gram can diced tomatoes in juice or Mexican-style tomatoes
1½ cups beef stock or water
¼ cup sherry
2 tablespoons paprika
¼ cup chopped fresh parsley
Method
Turn the slow cooker on to low to pre-warm while gathering and preparing the ingredients.
Cut the beef and potatoes into 2-cm dice.
If wishing to brown the ingredients then brown the beef and onion well in a dash of oil in a hot frying-pan. This will be best done in 2-3 batches.
Into the pre-warmed slow cooker put the beef, potatos, onion, fresh tomatoes, olives and garlic.
In a jug, stir together the canned tomatoes, stock or water, sherry and paprika. Pour into the slow cooker, stir to mix and cover with the lid.
Cook on low for 6-7 hours or on high for 3-4 hours without lifting the lid. Once the cooking time is finished, check the beef for tenderness and continue to cook if required. Season well with salt and pepper.
Season the stew scattered with a little parsley and extra olives if wished.
Cooks Tips
Variations: - Use pork in place of beef. - Use smoked paprika for an earthy flavour. - Add 2 teaspoons dried oregano when cooking. - Add 2 sliced and pan-fried chorizo sausages to the beef when cooking. - Add ¼-½ teaspoon saffron threads for a very authentic Spanish taste. A little sherry adds a unique flavour to this down-to-earth casserole. You can vary the finished flavour of the dish by using a dry, medium-dry or sweet sherry. Sherry should not be considered Grandmother's tipple as the authentic drop from Jerez on the south-west coast of Spain is truly a delectable fine wine. Have a glass well-chilled to accompany this stew if having with friends.