Add to Cookbook

Soy and star anise braised chicken
20 minutes, marinating time overnight or 4 hours minimum
in the slow cooker low 5-7 hours, high 3-4 hours
6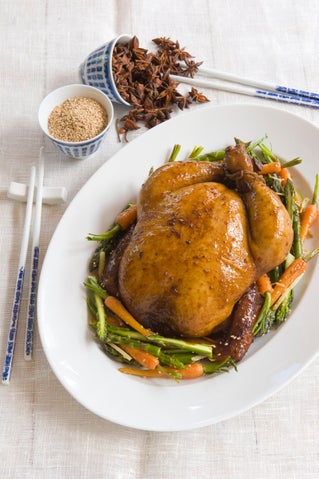 Allowing the chicken to marinate in a gutsy Chinese spiked soy sauce-based marinade overnight will enhance the flavour of the finished dish. Rather than serving with your favourite mix of stir-fry vegetables, remove from the cooking sauce, chill and take to a picnic. Pull the meat off in chunks and stuff into baps with salad greens, sweet chilli sauce and a handful of crunchy honey-roasted peanuts for salad rolls with a difference.
Ingredients
1.5-1.6 kilogram whole chicken
½ cup light soy sauce
¼ cup dark soy sauce
2 tablespoons honey
2 tablespoons sugar
½ cup dry sherry
pared rind one orange
2 star anise, crushed
2 teaspoons minced ginger
1 teaspoon minced garlic
1 teaspoon sesame oil
Method
Wash the chicken and pat dry, especially the cavity. Place the chicken in a resealable bag. Mix together the soy sauces, honey, sugar, sherry, orange rind, star anise, ginger, garlic and sesame oil. Pour into the bag and seal.
Turn the chicken to coat evenly in the mixture and refrigerate overnight or for at least 4 hours.
Turn the slow cooker on to low to pre-warm. Place the chicken and marinade from the bag into the slow cooker and cover with the lid.
Cook on low for 5-7 hours or on high for 3-4 hours or until the chicken is cooked.
Carefully remove the chicken from the slow cooker onto a warmed serving platter. Cover and keep warm. Transfer the sauce from the slow cooker to a saucepan and simmer until reduced by a third. Glaze the chicken with a little of the sauce and place the remaining sauce into a serving jug.
Serve the chicken with your favourite stir-fried vegetables and sauce on the side.
Cooks Tips
Variation - Use 6 chicken leg and thigh portions in place of whole chicken - For a simple vegetable stir-fry, toss spring vegetables such as baby carrots and asparagus in a hot frying-pan in a dash of oil with plenty of shredded fresh ginger. When crisp-tender, toss through a handful of sesame seeds and season with a dash of soy sauce.