Add to Cookbook

Smoked salmon roulade with lemon and dill sauce
15 minutes
25 minutes
4 for lunch or 6-8 as an entree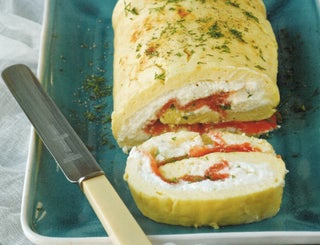 Ingredients
50 grams butter
¼ cup flour
1 cup milk
4 eggs, separated
¾ cup grated Cheddar cheese
½ cup ricotta cheese
100 grams smoked salmon slices
1 tablespoons chopped fresh dill
Lemon and Dill Sauce
2 spring onions, trimmed and sliced
1 tablespoon butter
1 tablespoon lemon juice
¼ cup white wine
½ cup cream
1 tablespoon chopped fresh dill
Method
Preheat the oven to 200ºC. Line a 20cm x 30cm Swiss-roll tin with baking paper and brush with a little melted butter. Line a cake rack with a clean tea towel and set aside.
Melt butter in a saucepan, add the flour and cook over medium heat for 1-1½ minutes. Remove from heat and gradually stir in milk. Return to heat and cook until mixtures is thick. Remove from the heat and quicly beat in the egg yolks and grated Cheddar cheese.
Beat the egg whites until soft peaks form. Gently fold into sauce mixture, then pour into the prepared tin and level off.
Bake in the preheated oven for 12-15 minutes or until golden brown.
Working quickly, turn out on the prepared tea towel, carefully remove the paper lining and spread with ricotta cheese. Cover with smoked salmon slices and sprinkle with dill. Holding the tea towel firmly at the shorted edge, gently roll up roulade finishing with the join underneath. Serve immediately, cut in slices with the lemon and dill sauce.
Lemon and dill sauce
Cook the spring onions in the butter until soft. Add lemon juice, wine and cream and simmer gently for 5 minutes. Add dill and season with salt and white pepper.
Cooks Tips
- Dill is one herb that dries well so if you do not have fresh dill, replace it with half the amount of dried dill. - Three slices or 40 grams Cheddar cheese will provide an adult with at least 50 percent of their daily calcium needs. Put the slices in a sandwich or top them over vegetables at night.