Add to Cookbook

Slow roast lamb shoulder stuffed with tapenade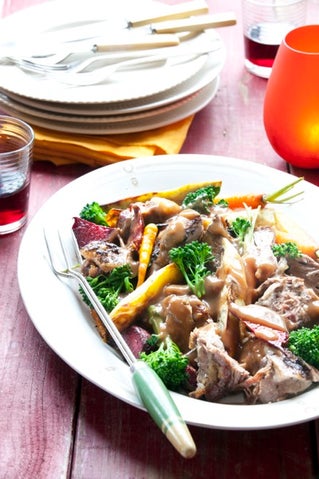 The flavours of this dish are mellow yet gutsy. I like to serve the meat piled on top of roasted vegetables such as baby carrots, beetroot and steamed brocolli.
Ingredients
1 shoulder of lamb, on the bone
2 tablespoons Tapenade (see DIY pastes on my website)
1 teaspoon minced garlic
1 teaspoon finely chopped fresh rosemary
¼ cup olive oil
Method
Preheat the oven to 160ºC.
Use a sharp cook's knife to make 6-9 small but deep cuts through to the bone in the lamb shoulder. Sit in a shallow-sided baking dish.
Mix the tapenade, garlic and rosemary together and spoon or press small spoonfuls into each cut; spread the rest over the lamb. Pour the oil over the lamb and sprinkle with a little salt if wished.
Roast in the preheated oven for 2 hours or until the meat begins to fall from the bone. Remove from the oven and allow to sit for 20 minutes, reserving the juices. Carve the lamb into chunky pieces, pile onto a serving plate and drizzle over the reserved juices. Serve with your favourite vegetables or salad.