Add to Cookbook

Slow-cooker shepherd's pie
25 minutes
in the slow cooker 5-7 hours, high 3-4 hours
8-10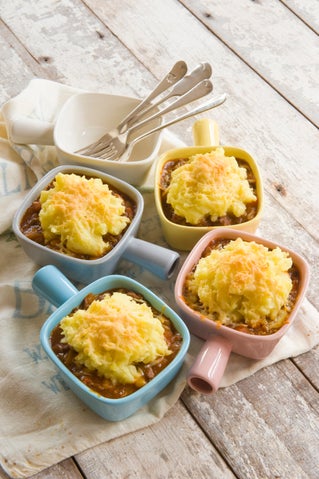 Load this shepherd's pie up with vegetables so that it is a one-dish meal. The parsnips give this humble dish a sweet, earthy flavour.
Ingredients
1.5 kilograms boneless lean lamb for casseroling
1 leek, trimmed and washed, optional
1 onion, peeled and finely diced
2 carrots, peeled and finely diced
2 large parsnips, peeled and finely diced
535 gram can favourite cook-in-style sauce
400 gram can diced tomatoes in juice, tomato puree or tomato soup
½ cup water
1 tablespoon flour
Potato topping
1.5 kilograms floury potatoes, peeled
½ cup milk
50 grams butter
1 cup grated Parmesan cheese
Method
Turn the slow cooker on to low to pre-warm while gathering and preparing the ingredients.
Cut the lamb and leek if using into small 1-cm dice.
Heat a dash of oil in a frying-pan and brown the lamb pieces well. They should be evenly browned.
Into the pre-warmed slow cooker put the lamb, leek, onion, carrots and parsnips.
In a jug, mix together the cook-in-style sauce, canned tomato product, water and flour and stir until not flour lumps remain.
Pour into the slow cooker and stir to mix evenly. Cover with the lid.
Cook on low for 5-7 hours or on high for 3-4 hurs.
For an easy presentation, pile the warm mashed potatoes directly on top and serve from the slow cooker. Alternatively, transfer the casserole to an ovenproof dish or six individual dishes, pile on the warmed mashed potatoes and sprinkle with the cheese.
Bake at 190ºC for 10-15 minutes or until piping hot and the cheese has melted and is golden.
Potato topping
Cut the potatoes into even-sized pieces and cook in boiling salted water until tender. Drain. Mash well and stir in the milk and butter. Season with salt and white pepper if wished, and top with the Parmesan.