Add to Cookbook

Slow cooked duck with orange and carmamelised onions
20 minutes
low 5-6 hours, high 2-3 hours
6-8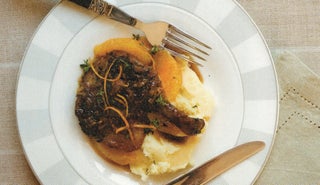 In the past, eating duck at home only happened if you had a hunter in the family or a Chinese supermarket close by. Now fresh ducks are becoming readily available.
Ingredients
6-8 duck leg and thigh pieces
2 large onions, peeled and thinly sliced
4 cloves garlic, crushed, peeled and sliced
2 tablespoons sugar
½ cup orange marmalade
¼ cup orange juice
1 cup chicken stock
2 tablespoons chopped fresh thyme
2 oranges
Method
Turn a slow cooker or crockpot on to low while preparing ingredients.
Heat a dash of oil in a frying pan and when very hot place duck portions into the pan, skin side down to brown very well. Turn once; brown underside for 2-3 minutes then transfer to the pre-warmed slow cooker.
Drain most of the fat from the pan, returning 3 tablespoons. Add onions and cook over a moderately high heat for 12-15 minutes, until onions are well browned. Stir regularly to prevent the onions from burning.
Add the garlic to the pan and cook only for a minute. Stir in the sugar and hwen the sugar has melted, add the mixture to the slow cooker.
Mix together the marmalade, orange juice, chicken stock and thyme. Pour over the duck and cover with the lid. Cook on low for 5-6 hours or high for 2-3 hours, without lifting the lid.
To serve, grate rind from the oranges with a zester or coarse grated and reserve. Use a sharp knife to cut away all the bitter white pith. Cut the orange into pieces. Add the orange rind and flesh to the duck. Season with salt, pepper and fresh thyme if wished before serving. Mashed kumara is an excellent aside.