Add to Cookbook

Simple moong dal
10 minutes
in the slow cooker low: 5-6 hours, high 3-4 hours, plus 30 minutes extra
6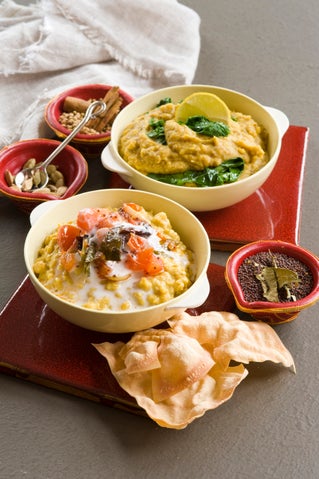 Dal refers to both the ingredient and the dish made from it. Dal is a split pulse and there are a plethora of varieties including those from beans, peas or lentils. Dal is one of the main dishes of India and ranges from a thin soupy-style dish to a thick porridge-like mix. The choice is yours.
Ingredients
2 cups moong dal
5 cups water
½ teaspoon turmeric
1 teaspoon salt
3 dried red chillies
3 whole cloves
1 teaspoon coriander seeds, toasted
½ teaspoon cumin seeds, toasted
½ cinnamon stick
¼ teaspoon cardamom seeds
½ teaspoon black peppercorns
¼ cup oil
1 red onion, peeled and finely chopped
3-4 bunches fresh spinach, washed
Method
Turn the slow cooker on to low to pre-warm while gathering and preparing the ingredients.
Put the dal, water, turmeric and salt into the pre-warmed slow cooker. Cover and cook on low for 5-6 hours or on high for 3-4 hours, until the dal is mushy.
Into a spice mill or coffee mill put the chillies, cloves, coriander and cumin seeds, cinnamon stick, cardamom seeds and peppercorns and grind until fine.
Heat the oil in a frying pan and cook the onion over a moderately high heat until well browned. Add in the ground spices and toss quickly in the hot onions until very fragrant. Do not overcook as they will burn and give the dal a bitter flavour. Remove from the heat.
Shake excess water from the spinach and tear the leaves away from any coarse stems. Stir the spinach leaves, onion and spice mix into the dal. Cover and cook for an extra 30 minutes on high.
Serve in bowls with a wedge of lemon or lime to squeeze onto the dal before eating. Serve with poppadoms, or try warmed naan or paratha bread. For a thinner dal, stir in hot water to achieve the consistency preferred.