Add to Cookbook

Silverbeet or spinach and ricotta cannelloni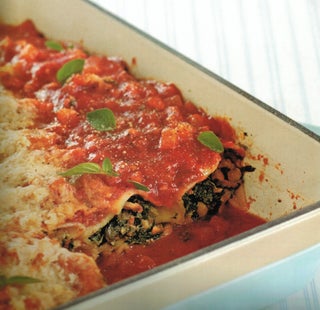 For a special twist, use pancetta in place of bacon in this easy-to-prepare pasta dish.
Ingredients
350 grams silverbeet or spinach leaves, washed
4-6 rashers of bacon, diced
1 tablespoon butter
¼ cup pinenuts, toasted (optional)
½ cup ricotta or cottage cheese
1 cup grated Parmesan cheese
125 grams instant cannelloni tubes
1½ cups your favourite pasta sauce
½ cup water
Method
Preheat the oven to 200ºC.
Shred the silverbeet finely. Heat a dash of oil in a pan and cook the bacon until crisp. Remove from the pan, add the butter and silverbeet and cook only until wilted.
Mix together the bacon, silverbeet, pinenuts if using, ricotta or cottage cheese and half the Parmesan. Season with a pinch salt, ground black pepper and nutmeg. Fill the cannelloni tubes with the mixture.
Mix together the pasta sauce and water and place half a cup of the sauce into the bottom of an ovenproof dish. Place the filled cannelloni tubes into the dish. Pour over the remaining sauce and sprinkle with the remaining Parmesan.
Bake in the preheated oven for 30-35 minutes. Serve warm with crusty bread and a green salad.