Add to Cookbook

Shrewsbury biscuits
20 minutes, Chilling Time: 1 hour
10 minutes
Makes 24-36 joined biscuits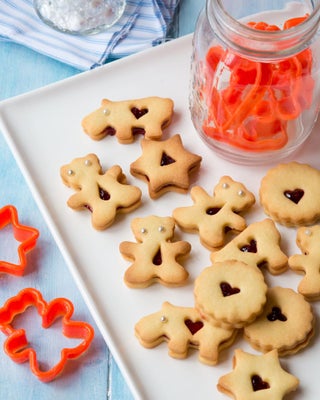 Make these classic biscuits at home, they'll have a fresher flavour.
Ingredients
1¾ cups flour
1 cup icing sugar
150 grams butter, diced
1 egg
1 teaspoon vanilla essence
red berry jam
cachous, optional
Method
Preheat the oven to 200ºC. Lightly grease two baking trays or line with baking paper.
Sift the flour and icing sugar into a bowl. Rub in the butter until the mixture forms moist crumbs. Mix the egg and vanilla together and cut into the crumb mixture to form a soft dough. Turn out and bring togeter, wrap in plastic wrap and refrigerate for 1 hour.
Roll dough out on a lightly floured bench to 2-3mm thickness. Cut into rounds or shapes - no bigger than 5cm. In half of these cut out a centre hole - can be any shape. Transfer biscuits to the prepared tray.
Bake in the preheated oven for 8-10 minutes or until lightly brown around the edges. Cool on the trays for 5 minutes before transferring to a cake rack (if you move the biscuits while too warm they will collapse).
Join together when cold with jam and if wished, decorate animal shapes with cachous and dust with icing sugar before serving.