Add to Cookbook

Seared Tuna With Coconut Dressing And Mint Oil
15 minutes
5 minutes
1 hour
6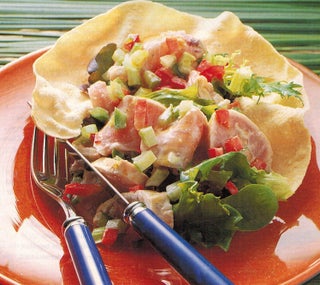 Unlike other marinated raw fish dishes, the fish in a traditional Tahitian Poisson Cru is served soon after tossing the tuna with the diced vegetables, coconut milk or cream and lemon juice. Serve well chilled with salad ingredients.
Ingredients
750 grams very fresh tuna fillets
½ red pepper, finely diced
½ green pepper, finely diced
2 celery stalks , finely diced
½ cup coconut cream
¼ cup lemon juice
6 poppadums
salt and pepper
about 2-3 handfuls baby lettuce leaves
½ cup fresh mint leaves
½ cup olive oil
salt and pepper to season
Method
Season the tuna steaks with salt and pepper.
Heat the oil in a frying pan until very hot. Add the tuna steaks and cook over a high heat for 2 minutes on each side.
Transfer to a plate, cover, cool and then refrigerate for 1 hour.
Slice the tuna into thin slices, about 3mm thick.
Place the tuna in a flat dish and sprinkle over the red and green peppers, celery and then pour over the coconut milk and lemon juice. Season with salt and pepper and then toss. Cover and marinate in the refrigerator for 20 minutes.
Place one poppadum over the base of an upturned cup or egg cup and cook in the microwave on high power 100% for 40 seconds – 1 minute until crisp. Repeat with remaining poppadums.
Toss the tuna with salad greens and serve inside each poppadum basket. Drizzle the mint oil.
Mint oil
Process the mint and olive oil in a food processor and then sieve. Season with salt and white pepper.