Add to Cookbook

Seafood burritos with spicy lime guacamole
15 minutes
20 minutes
Makes 6-8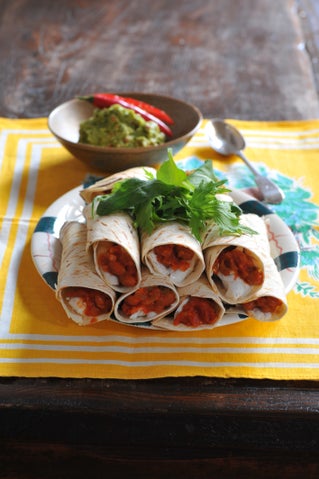 Freshly caught fish is regularly grilled for guests and any leftover fish is quickly revitalised into another dish, like these burritos.
Ingredients
1 onion, peeled and finely chopped
1 teaspoon minced garlic
1 tablespoon Mexican seasoning (use favourite brand)
400 gram can pinto beans in sauce, or similar
400 gram can chopped tomatoes
2-3 cups flaked, cooked white-fleshed fish fillets
2 tablespoons chopped fresh coriander
6-8 soft flour tortillas
Spicy lime guacamole
2 ripe avocados, halved, stoned and peeled
1 red chilli, deseeded and finely chopped
grated rind and juice of 1 lime
½ teaspoon Mexican spice mix
1 tablespoon each finely chopped fresh coriander and mint or basil
Method
Cook the onion in a dash of hot oil in a frying-pan until well browned and tender. Add the garlic and spice mix and stir over heat until fragrant.
Add the pinto beans and sauce and the chopped tomatoes and simmer gently for 10 minutes until the mixture has reduced a little and has good flavour.
Fold in the fish and coriander and season with salt and pepper. Place large spoonfuls of the mixture into the warmed tortillas and wrap up to enclose the filling.
Serve wrapped in a cloth or serve on a place and accompany with sour cream, guacamole and salad, if wished.
Spicy lime guacamole
Mash the avocado until smooth. Stir in the chilli, lime rind and juice, spice mix and herbs. Season with salt and pepper to taste. Cover and stand for 30 minutes, allowing the flavours to blend before serving.
Cooks Tips
- Mexican seasoning is prepared from a blend of cumin, coriander, garlic, chilli and paprika and a number of brands are available - look in the spice section of the supermarket.
- Pinto beans in sauce are also sold as Tex-Mex beans.