Add to Cookbook

Sausages in pepper gravy
without browning 10 minutes, with browning 20 minutes
low 5-6 hours, high 3-4 hours
6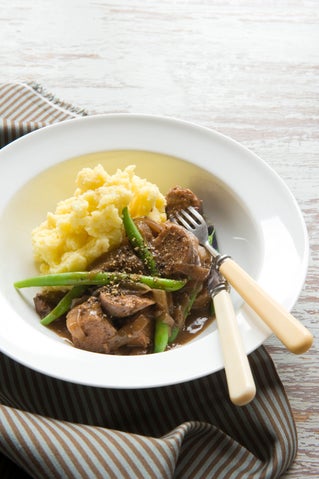 A simple family dish that's perfect as a mid-week meal.
Ingredients
12 thick beef sausages
2 onions, peeled and chopped
1-2 teaspoons minced garlic
2 tablespoons flour
1 tablespoon coarsely cracked black pepper
1 cup red wine
1 cup beef stock
Method
Turn the slow cooker on to pre-warm while gathering and preparing the ingredients.
If wishing to brown the ingredients then heat a dash of oil in the frying-pan and brown the sausages over a moderately low heat to avoid them from splitting. Brown the onions if wished.
Into the pre-warmed slow cooker put the sausages, onions and garlic. In a jug mix together the flour, pepper, wine and stock to make a smooth sauce and pour over the sausages. Cover with the lid.
Cook on low for 5-6 hours or on high for 3-4 hours, or until the sausages and onions are tender.
Serve with your favourite seasonal vegetables.
Cooks Tips
- If you would like to thicken the sauce a little more, stir in 1-2 tablespoons beurre manie, cover with the lid and cook for a further 20-30 minutes on high.