Add to Cookbook

Salted spiced brisket
without browning 10 minutes, with browning 20 minutes
marinating time: overnight, cooking time low 7-9 hours, high 3-5 hours
10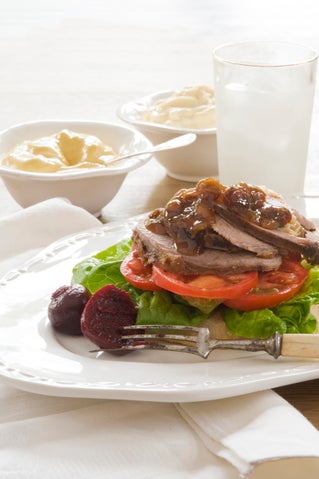 Salted rolled brisket is a cut that was very popular some years ago, though it has fallen out of favour today as it is thought to be too fatty. But ask for lean brisket and take the time to salt the meat for 24 hours ahead of cooking it for a tasty cold cut of meat for the summer months.
Ingredients
6 dried bay leaves
¾ cup coarse or flaky salt
1 teaspoon whole allspice
1 teaspoon ground mace or nutmeg
½-1 teaspoon ground cloves
1 teaspoon ground white pepper
¼-½ teaspoon dried thyme
1.75 kilogram brisket in one piece, unrolled
50 grams butter
1 onion, peeled and finely chopped
330 millilitre bottle dark beer
Method
Crush half the bay leaves and set the remaining half aside.
Mix together the crushed bay leaves, salt, allspice, mace or nutmeg, cloves, white pepper and thyme in a very large bowl.
Turn the brisket over in the salt mixture, rubbing the mix into the meat well.
Cover with plastic wrap and leave in a cool place, away from warmth and direct sunlight for 24 hours, turning two or three times if possible.
Turn the slow cooker on to low to pre-warm while preparing the rest of the recipe.
Remove the beef from the mix, which will now be quite wet- the salt draws the moisture out of the meat. Rinse quickly to remove excess salt and pat dry on a paper towel. Roll the meat up firmly and secure with string.
If wishing to brown the meat then add a good dash of oil in a large frying pan and brown the beef on all sides as well as possible. Do not leave the brisket too long in one place in the frying pan as it is apt to burn from the salt and spices.
Heat the butter in a frying pan or saucepan and cook the onion over a moderate heat for 5-6 minutes until it begins to soften. Add the remaining bay leaves and the beef and simmer until reduced by half.
Pour into the pre-warmed slow cooker and sit the beef in the middle. Cover with the lid.
Cook on low for 7-9 hours or on high for 3-5 hours or until the beef is well-done. Remove the beef from the slow cooker and place in a deep bowl. Cover with a lid or a couple of layers of foil and place a moderately heavy weight in the middle. This will press the meat, making it a lovely firm texture which can be sliced thinly later. Once cool, refrigerate overnight.
Serve thinly sliced with salads or in sandwiches.
Cooks Tips
- Finely milled salt (plain or iodised) is too fine for this dish and will make the brisket too salty. Look for flaky or coarse salt. Avoid rock salt, though, as it is too coarse. - The beer can be replaced with 1½ cups beef stock if wished.