Add to Cookbook

Salmon Salad With Creamy Tarragon Dressing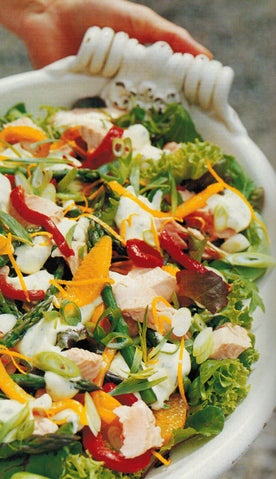 Fresh, interesting and full of goodness.
Ingredients
2 cups water
¼ cup dry white wine
1 bouquet garni
a few peppercorns
800g-1kg side of salmon
1 each red and yellow pepper
mixed salad greens for 8
1 orange (optional)
1 bunch asparagus, blanched
2 spring onions, trimmed and chopped
Tarragon Cream Dressing
1 egg
2 tblsp caster sugar
3 tblsp tarragon vinegar
¼ cup cream
1 tblsp finely chopped crystalised ginger (optional)
2 tblsp chopped tarragon
Method
Put the water, wine, bouquet garni and peppercorns in a large lidded frying pan simmer for 5 minutes. Use tweezers to remove the bones from the salmon. Cut salmon into 4 equal-sized pieces. Add the salmon steak to the pan, cover and poach for 7 minutes, or until just cooked. Transfer salmon to a plate, discarding the liquid. When the salmon is cool, remove the skin and flake the flesh. Cover and set aside.
Grill the red and yellow peppers until they are blackened and blistered all over. Cool, peel, core and deseed, then slice thinly.
Refresh the salad greens in cold water and dry well in a salad spinner. or wrap in a tea towel and shake lightly. Grate the rind from the orange. Cut away the thick pith and then segment the flesh. Toss the salmon, asparagus, peppers, spring onions, lettuce and orange rind and segments together.
Tarragon Cream Dressing
Beat the egg, sugar and tarragon vinegar together in a heatproof bowl. Put the bowl over the top of a saucepan full of simmering water and stir constantly until the mixture is thick. Remove from the heat and cool. (Alternatively microwave on 50% power for 30-60 seconds.)
Beat the cream until it just begins to thicken. Fold the cooked egg mixture, ginger and chopped tarragon into the whipped cream.
Spoon the dressing over the salad just before serving.