Add to Cookbook

Salmon mille feuille with lemon cream and rocket pesto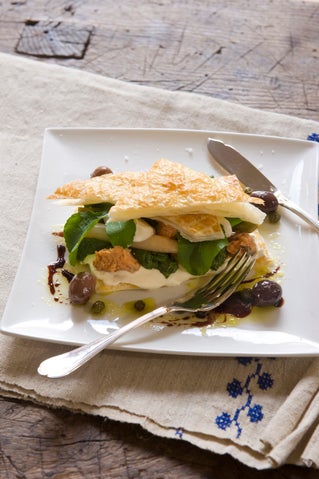 This dish has far more dash than cash about it. Canned red salmon presented nestled in a bed of whipped, gently soured cream, topped with a quick pesto and sandwiched in freshly baked puff pastry layers - you'll easily forget it's canned.
Ingredients
4 sheets pre-rolled puff pastry
2x 210 gram cans red salmon, chilled and well-drained
350 grams asparagus, blanched and cooled
small bunch rocket or salad leaves
olive oil for drizzling
lemon or lime rind, chopped
toasted pine nuts, optional
olives, optional
Lemon cream
½ cup cream, whipped
250 gram pottle sour cream or creme fraiche
grated rind of 2 lemons
Rocket pesto
2 cups well-packed rocket leaves
100 gram pottle basil pesto
Method
Preheat the oven to 220ºC. Grease 2 baking trays or line with baking paper.
Place the pastry sheets on the prepared baking tray and brush with milk or beaten egg to glaze. Prick all over and make with the tines of a fork.
Bake in the preheated oven for 8 minutes until well risen and golden. Cool on a cake rack (at this stage the pastry can be wrapped up and stored for 2 days before using).
Trim the edges from the pastry sheets and slice the pastry sheets crosswise in half. Use a serrated knife for best results. Spread half the pieces with a generous layer of lemon cream.
Break the salmon into chunky pieces and arrange on top.
Spoon over 1-2 tablespoons rocket pesto and then top, if wished, with more lemon cream. Scatter over the asparagus and rocket or salad leaves. Cover with the remaining pastry sheets and serve quickly after assembling, drizzled with olive oil and scattered with lemon or lime rind, and pine nuts or olives. Garnish with capers and balsamic vinegar, if wished.
Lemon cream
Gently fold the cream, sour cream or creme fraiche and lemon rind together.
Rocket pesto
Place the rocket and pesto into a food processor and process until well mixed.
Cooks Tips
- To achieve a deep golden, glazed pastry, beat one egg yolk with 2 tablespoons milk or water and a wee pinch of salt for an egg wash. - When handling puff pastry sheets, work quickly as they cook best if chilled or cold. If too warm, the pastry will not rise well when baking. Variations: - In place of asparagus use blanched snow peas or mange-tout. - When out of season use canned or bottled green or white asparagus. - Use cold smoked salmon, smoked chicken or shredded ham in place of canned salmon.