Add to Cookbook

Rosemary and balsamic baked potatoes and pumpkin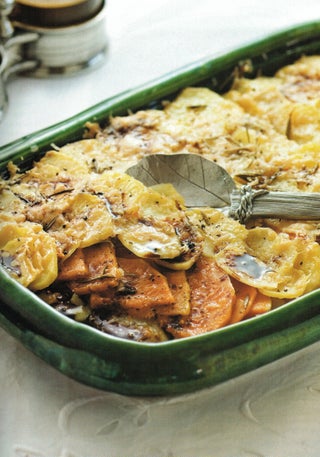 Wonderful in winter served with roast chicken or beef. Have the balsamic on hand at the table to drizzle a little extra over the vegetables.
Ingredients
650-750 grams starchy potatoes
750 grams pumpkin
2 cloves garlic, peeled and sliced
50 grams parmesan cheese, grated
2 tablespoons chopped fresh rosemary
¾-1 cup virgin olive oil
2 tablespoons wuality balsamic vinegar
Method
Peel the potatoes and pumpkin. Discard the pumpkin seeds. Slice the potatoes and pumpkin thinly.
Arrange a layer of potato slices in the base of a large baking dish. Sprinkle over a little of the sliced garlic, parmesan cheese and rosemary. Drizzle liberally with olive oil and season with salt and pepper.
Place a layer of pumpkin slices on top and then another layer of garlic, parmesan cheese, rosemary, oil and seasoning. Repear layers to use all ingredients, finishing with a layer of potatoes topped with cheese, garlic, rosemary and oil.
Bake at 180ºC for 1-1¼ hours or until the vegetables are tender. Drizzle with the balsamic vinegar before serving.