Add to Cookbook

Rose Braised Lamb Shoulder with Crushed Grapes and Toasted Walnuts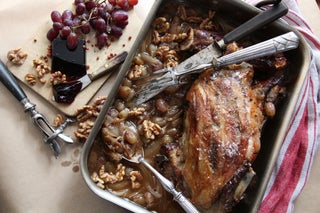 A delicious autumnal unspired braise that begs for mashed potato to soak up all the jucies.
Ingredients
1 shoulder of lamb
8-10 shallots, peeled and sliced lengthwise in half
4-5 garlic cloves, peeled and sliced thickly
1 tablespoon pink peppercorns
250-350 grams red grapes, preferably seedless
750 ml bottle rosé wine (still or sparkling)
1-2 tablespoons grape jelly
1 cup walnuts, toasted
Method
Preheat the oven to 160°C. Set the rack in the centre.
Place the lamb skin side down in a large flame-proof, roasting dish. Place over a moderately high heat and cook until well browned. Turn over. Scatter the shallots and peppercorns around the lamb and cook in the fat that has rendered out of the meat for a few minutes.
Pour in the wine and bring to the boil. Pull the grapes from the stems and add to the dish, scattering them evenly around the meat. Season with salt. Cover loosely with foil and transfer to the oven.
Braise in the oven for 2 hours. Remove the foil and continue to cook for a further 2 hours or until the meat begins to fall from the bone. Transfer the lamb to a warm plate, cover with foil and set aside to rest for 10 minutes.
Add the grape jelly to the roasting dish. Place the dish over a moderate heat and simmer for 8-10 minutes or until the jus has reduced to become a little syrupy in consistency. If wished, use a potato masher and crush the grapes a little. Add the walnuts and season the sauce if wished.
Carve or pull the meat from the bone and serve with a spoonful of the grape sauce and accompany with vegetables.
Cooks Tips
If you do not have pink peppercorns, use dried green peppercorns or half the amount in white.
In place of rosé wine, use a light merlot or pinot noir.
To buy Homegrown Farm Fresh Meats (winner of the 2018 NZ Food Producer Awards, Paddock Champion), go to https://www.homegrownfarmfreshmeats.co.nz