Add to Cookbook

Rogan Josh (slow cooker method)
30 minutes
low 6-8 hours, high 3-4 hours
8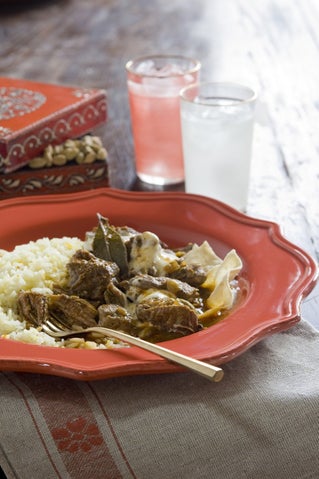 Rogan Josh is compulsory on every Indian restaurant's menu. It is easily recognisable dur to the rich red colour from the paprika and chillies. It is highly aromatic and if you do not have time to prepare this dish with the spices, grab your favourite Rogan Josh curry paste and use. Slow cooking this dish creates an exceptional tasting curry.
Ingredients
1 kilgoram boneless lean lamb or hogget for casseroling
1 large onion, peeled and finely diced
8 cloves garlic, crushed, peeled and diced
1 tablespoon minced fresh ginger
8 whole cardamom pods, crushed
8 whole peppercorns
8 whole cloves
1 small cinnamon stick
2 bay leaves
1½ tablespoons paprika
2 teaspoons ground cumin
1 teaspoon ground coriander
1 teaspoon salt
½ teaspoon ground turmeric
½ teaspoon chilli powder
½ teaspoon fennel seeds
1½ cups beef stock
¼-½ cup plain yoghurt, optional
Method
Turn the slow cooker on to low to pre-warm while gathering and preparing the ingredients.
Cut the lamb into 3cm chunks, trimming off any excess fat.
Brown the lamb in a dash of oil in a hot frying-pan until well bronwed. This is best done in batches.
Into the pre-warmed slow cooker put the lamb, onion, garlic, ginger, cardamom pods, peppercorns, cloves, cinnamon stick, bay leaves, paprika, cumin, coriander, salt, turmeric, chilli powder and fennel seeds.
Add the stock and stir to mix the ingredients as well as possible. Cover with the lid.
Cook on low for 6-8 hours or on high for 3-4 hours, or until the meat is tender.
Stir in the yoghurt if using and season with salt and pepper. Do not allow the curry to boil once the yoghurt has been added as it will cause the curry to curdle.
Serve the Rogan Josh with saffron rice, poppadoms or fresh naan bread.
Cooks Tips
- Classically the meat for a Rogan Josh is never browned, however, I believe it results in a nicer flavour as we are not keen on the boiled flavour these days. - Refrigerating the casserole for 1 or 2 days before eating will allow time for the flavours to marry further, giving a most delicious meal. Variations: - If you do not have all the spices, buy your favourite Rogan Josh curry paste or cook-in-style sauce and use with the lamb, onion, garlic and stock only.