Add to Cookbook

Roasted Potato Pizza With Marinated Artichokes And Watercress Oil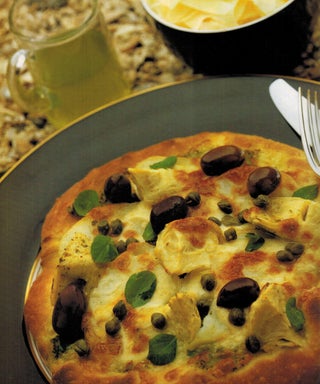 Pizzas are great meals and there are so many options for toppings. This one uses left over roasted potatoes or kumara and is jazzed up with a pungent and peppery watercress oil.
Ingredients
2 tsp dried granulated yeast
1½ cups warm water
½ tsp sugar
500 grams flour
1 tsp salt
3 tblsp olive oil
Topping
about ¼ cup sundried tomato paste or pesto
2 oven roasted potatoes or kumara, cooled and sliced
about 6 marinated artichokes, quartered
250 grams bocconcini cheese, thinly sliced
Garnish
finely sliced capers
black olives
Method
Sprinkle the yeast over the warm water and sugar in a large jug. Stir and set aside for about 10 minutes until the yeast has become spongy. (see Cook's Tip)
Put the flour, and salt into a food processor and with the motor running pour in the olive oil.
When the yeast is frothy, give it a good stir. With the motor running of the food processor, pour the yeast mixture down the feed tube as fast as the flour can absorb it. If you pour it all in at once you stand the chance of forming a gooey mess at the bottom of the bowl which will ride up and clog the blade shaft, causing the motor to stop.
As the dough forms a mass let the processor continue for 1 minute.
Transfer the dough to a lightly oiled bowl, cover with plastic wrap and set aide for about 45 minutes until double in bulk. If you are in a cold kitchen this may take up to an hour.
Turn the dough out onto a floured board, divide in two.
Roll the pizza out to two large rounds. Spread the pizza\'s with the sundried tomato paste or pesto. Arrange the potatoes and artichokes on top. Scatter with the sliced bocconcini cheese.
Place in a 240 degrees Celsius for 10 minutes or until the pizza crust is golden and the filling hot and melted.
Garnish with capers and black olives. Serve the pizza hot with the watercress oil on the side.
Watercress Oil Place 2 cups water cress leaves in a food processor with ½ cup oil ( olive oil is lovely if you have it) and process until the mixture becomes a green puree. Allow the mixture to stand for 2 hours before pouring it though a sieve. I like to add a smidge of salt to the oil. Discard the remaining pulp.
Cooks Tips
The yeast mixture must become frothy to be sure it is alive. If this does not happen, try again and if it fails again, the yeast is dead (probably too old) so throw it away and buy some fresh.