Add to Cookbook

Roasted garlic, sweetcorn and feta triangles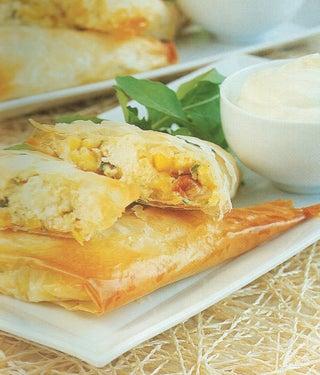 Something different for lunch.
Ingredients
1 bulb garlic
2 cups corn (use fresh, frozen or canned)
125 grams creamy-style feta cheese
1 egg
1 cup grated Cheddar cheese
chopped chives (optional)
4 sheets filo pastry
50 grams butter
Method
Drizzle the garlic with oil, wrap in foil and bake at 180ºC for 1 hour or until tender.
Once the garlic is cool, halve and squeeze out the pulp and mix with the corn, feta, egg and cheese. Season well with salt and pepper and, if wished, some chopped chives.
Take one sheet of filo pastry, brush with butter and fold in half lengthwise. Place a large spoonful of corn mix at the top and fold down the length of the filo strip to make a triangle. Brush with butter and place on a tray. Repeat with remaining ingredients.
Bake at 200ºC for 15 minutes or until golden. Serve hot with salad.
Cooks Tips
- Bake several bulbs of garlic at once. Keep in an airtight container in the fridge for up to two weeks and use as required.