Add to Cookbook

Roasted Garlic Mashed Potatoes with Walnuts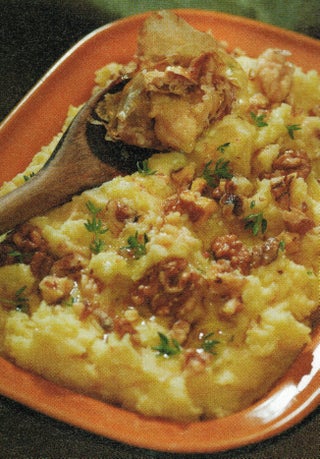 Pluckily flavoured with plenty of roasted garlic, these potatoes need a winter dish such as lamb shanks or beef casserole cooked with a good red wine to accompany.
Ingredients
1 bulb garlic
600 - 700 grams potatoes, peeled
25 grams butter
2 tblsp olive oil
¼ cup toasted walnuts
½ tblsp olive oil to serve
1 tblsp fresh thyme leaves
Method
Drizzle the garlic with a little oil and wrap the whole garlic bulb in foil. Bake at 180°C for 1 hour or until soft. Test with a skewer.
Cut the potatoes into even sized pieces and cook in boiling salted water until tender. Drain.
Cut the garlic in half horizontally and squeeze the pulp into the potatoes. Add the butter and oil and mash until smooth. Add extra warm milk to make smooth mashed potatoes if needed. Season with salt and pepper. Serve garnished with the chopped toasted walnuts, fresh thyme leaves and an extra drizzle of olive oil.
Cooks Tips
- For the fluffiest mashed spuds use floury potatoes like Ilam Hardy, Red Rascal, Agria, Fianna or White Delight. - Keep walnuts in the freezer to prevent them from going rancid.