Add to Cookbook

Roasted asparagus and haloumi salad with walnut oil and tarragon dressing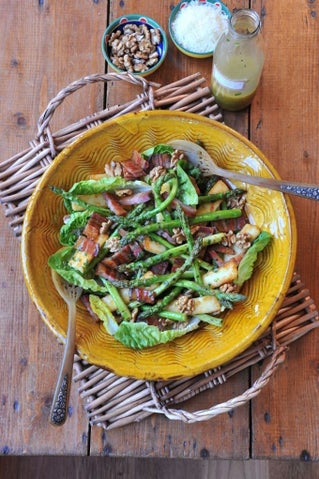 Asparagus is one of the most visible signs that spring has arrived. Toss with olive oil and roast the delicate spears in a hot oven or barbecue over a high heat with pancetta and haloumi for a delicious spring salad.
Ingredients
750 grams asparagus
½-1/3 cup walnut oil
1-2 shallots, peeled and finely chopped
100 grams thick-cut pancetta or bacon rashers, diced
200 grams haloumi, sliced
Walnut and tarragon dressing
2 tablespoons chopped fresh tarragon
1/3 cup walnut oil
1/3 cup runny honey
1/3 cup cider vinegar
1 teaspoon hot English mustard or wasabi paste
Method
Preheat the oven to 220ºC.
If the asparagus stems are thick, peel the bottom two-thirds of each one. Snap or cut off each woody end. This is not essential if the stems are young and tender.
Toss the asparagus in half the oil and arrange in a single layer in a roasting tray or dish. Bake in the preheated oven for 10-12 minutes, shaking the tray once or twice to turn, until brown and just tender. Transfer to a platter.
Heat the remaining oil in a frying-pan and cook the shallots, pancetta or bacon and walnuts until golden. Scatter this mixture over the asparagus.
Quickly pan-fry the haloumi slices in the residual oil for 1 minute, turning once. As the slices brown, place them on top of the salad. Transfer to a cos lettuce leaf-lined platter, pour over the dressing and serve.
Walnut and tarragon dressing
Place all ingredients in a screw-top jar and shake well.