Add to Cookbook

Roast Pumpkin And Bean Salad With Japanese Dressing
15 minutes
20-25 minutes
4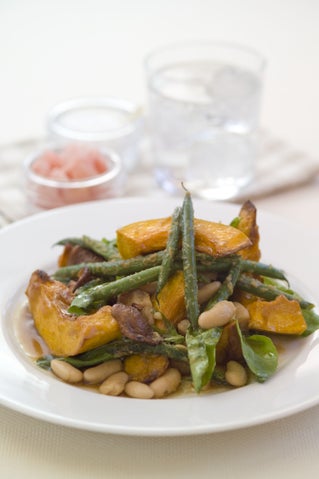 A tasty non-meat meal - not just for vegetarians, as it's great for a change of menu. Plus I always find left over salad like this makes great lunch box meals or quick lunches at home the next day. Add some flaked canned tuna and accompany with a little pickled ginger.
Ingredients
750 grams butternut pumpkin, peeled and diced
100 grams shiitake mushrooms, thickly sliced
150 grams green beans, trimmed
2 cups baby rocket leaves or watercress leaves
400 gram can cannellini beans, drained and rinsed
Japanese dressing
6 tablespoons olive oil
2 teaspoons sesame oil
2 tablespoons Japanese soy sauce
2 teaspoons wasabi paste
3 teaspoons grated fresh ginger
2 tablespoons sushi vinegar
Method
Toss the diced pumpkin in the oil and spread in a single layer on a baking paper lined oven tray. Bake at 180°C for 20-25 minutes until tender and golden brown.
Lightly pan fry the shiitake mushrooms and green beans for 2-3 minutes in a dash of oil or knob of butter for 2-3 minutes until golden. The beans need to be crisp-tender.
In a medium sized salad bowl place the pumpkin, cannellini beans, mushrooms and rocket. Toss together with the Japanese Dressing.
Japanese Dressing
In a screw-top jar, shake together the olive and sesame oils, soy sauce, wasabi paste, ginger and sushi vinegar.
Cooks Tips
All the vegetables can be prepared earlier in the day if wished and kept refrigerated until ready to use. Alternatively par-cook the diced pumpkin in the microwave before baking or pan frying.
Vary the ingredients using a mix of carrots and parsnips or try other beans such as kidney beans or even lentils, now available in cans, so you will not need to soak or cook.