Add to Cookbook

Roast Pork with honey and sage-glazed pears
10 minutes
2½ hours (approximately)
8-10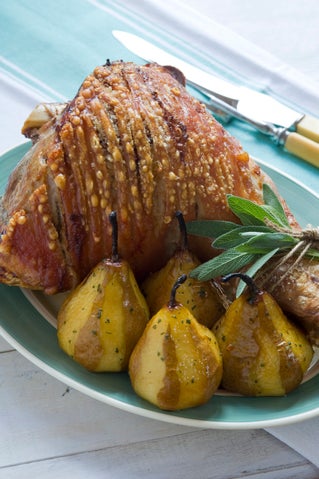 Crispy and decadent, the perfect crackling is not hard to achieve with this foolproof method. Roast pork, with its deep, golden-brown, crunchy salt-crusted crackling is one of life\'s pure culinary pleasures. To get that crackling cooked right every time, follow this simple recipe.
Ingredients
2.5-3 kilograms roast of pork on the bone, skin well-scored
2 tablespoons oil or lemon juice
2 tablespoons salt
Honey & Sage Pears
50 grams butter, melted
½ cup honey
1 tablespoon finely chopped fresh sage or ½ teaspoon dried sage
8 small ripe pears, peeled if wished
Method
Preheat the oven to 240ºC or 220ºC fan bake. If the skin has not been scored then, using the tip of a sharp knife, score the skin in long strokes without cutting so deep that you cut through all the fat and into the meat.
Place the pork roast on a tray and rub the skin with the oil or lemon juice and then the salt. Rub the salt in well especially where the skin is scored. This helps the skin become crisp.
Roast in the preheated oven for 20 minutes, then lower temperature to 180ºC (160ºC fan bake ) and cook, allowing 30 minutes per 500 grams of meat or until the meat is cooked. Remove from the oven, cover and rest the pork for 15 minutes before carving and serving with the honey and sage-glazed pears.
Honey and Sage Pears
In a large, shallow baking dish toss together the butter, honey, sage and pears and cover.
Bake with the pork for 40 minutes, remove the cover, turn the pears to coat in the glaze and cook a further10-15 minutes until they are tender.
Cooks Tips
If you have purchased a roast wrapped in plastic wrapping and on a polystyrene tray, then it needs time, uncovered in the fridge, to dry out. Remove the pork from the packaging, place on a plate, cover with a piece of paper towel and refrigerate for 1-2 days before cooking. When the cooking time is up, pierce the pork with a skewer at the thickest part through to the bone - if the juices run clear, the pork is cooked. Alternatively, use a meat thermometer and cook the pork to 71ºC. If the meat is not cooked, continue to cook for a further 15 minutes before testing again.