Add to Cookbook

Roast lemon and oregano lamb
20 minutes, marinating time: 3-4 hours if possible
2 hours (approximately)
6-8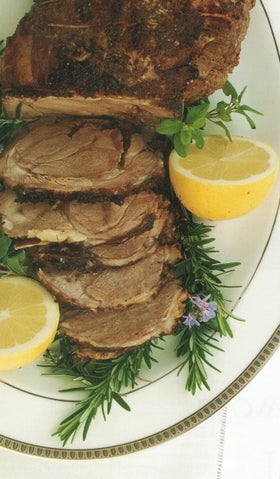 Serve this leg of lamb finely sliced either hot or warm, accompanied with bread and a freshly tossed Greek Salad.
Ingredients
¼ cup well-packed fresh oregano leaves
grated rind of 2 large lemons
¼ cup lemon juice
½ cup olive oil
3-4 teaspoons minced garlic
1 teaspoon ground cinnamon
1 teaspoon salt
1 teaspoon ground black pepper
1 easy carve leg of lamb
1 cup light red wine
Method
Put the oregano leaves, lemon rind, lemon juice, olive oil, garlic, cinnamon and salt and pepper into a mini-food mill and process until smooth. Alternatively, chop the herbs mix with the other ingredients.
Take note of the weight of the leg of lamb, you will need to know this to calculate the cooking time later.
Place the lamb into a large dish and rub or spread the garlic oil over the lamb. Cover and refrigerate for 3-4 hours. Remove from the refrigerator 30 minutes before cooking.
Preheat the oven to 180ºC and place the rack in the lower middle section.
Place the lamb in a roasting dish. Pour any remaining marinade over the lamb.
Roast the lamb, allowing 20 minutes per 500 grams plus an extra 20 minutes' cooking time. This will cook the lamb to medium. Stand the lamb for 10 minutes.
Add the wine to the pan and heat, stirring in any sediment from the bottom of the pan to make a jus.