Add to Cookbook

Roast beef fillet with currants and spices with aubergine puree
8-10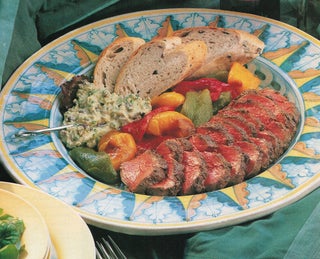 You can prepare this stunning roast beef up to 2 days ahead. It is particularly delicious when served with currant and parsley spiked aubergine puree.
Ingredients
½ cup currants
2 tablespoons port
2 cloves garlic
½ teaspoon each dried basil, oregano, cumin, thyme and pepper
6 tablespoons olive oil
750 gram piece eye fillet, well trimmed
Parsley-spiked aubergine puree
¼ cup currants
2 tablespoons port
1 large aubergine
3 cloves garlic, crushed and peeled
2 tablespoons chopped parsley
3 tablespoons chopped stoned black olives
¼ cup olive oil
2 tablespoons tahini paste
Method
Place the currants in a glass bowl with the port and cover with plastic wrap. Microwave for 2 minutes and cool. Or, you can allow to stand the currents in the port for 20 minutes to soften them.
Place the garlic, currants, herbs and spices and olive oil in a food processor and process until they form a smooth paste.
Place the fillet on 2 layers of foil and spread with the mixture. Wrap up in the foil loosely and marinate in the fridge for at least 4 hours or overnight.
Open the foil quite wide but do not remove the meat. Place on a raised baking rack in a baking dish. Bake at 190ºC for about 45 minutes until medium rare.
Cool the meat and drain away any fat. Once it's cool, re-wrap it in foil and chill until it is required.
Parsley-spiked aubergine puree
Prepare the currants as above in step one of the beef recipe.
Grill the aubergine for 3-4 minutes on all sides. Reduce oven to 180ºC and bake for about 20 minutes until soft and cooked all the way through, when pierced with a skewer. Allow to cool.
Peel the aubergine and discard the skin. Puree the flesh in a food processor.
Add the garlic, parsley, olives, currants, olive oil and tahini paste and pulse to mix well. Season well with salt and pepper. Keep refrigerated in a covered container until ready to use.
Cooks Tips
To quickly peel garlic, place a clove on a chopping board. Using a large flat knife, press the flat of the blade firmly on top of the garlic, placing all your weight on it. This will split the outer skin of the clove and then you can peel the skin away easily and the chop or use the garlic as required.