Add to Cookbook

Ricotta blueberry pancakes
40 minutes (includes standing time)
15 minutes
Makes 6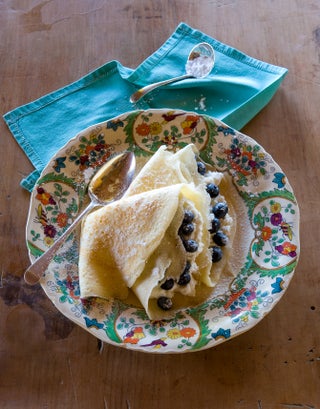 These ricotta-filled pancakes are a family favourite.
Ingredients
Pancakes
½ cup flour
pinch salt
1 egg
about ¾ cup milk
Filling
1 cup blueberries
2½ cups fresh ricotta
3-4 tablespoons caster sugar
Method
Pancakes
Sift flour and salt into a bowl and make a well in the centre. Beat the egg and milk together and pour into the well, stirring with a wooden spoon to make a smooth batter of pouring consistency. Add extra milk if necessary. Strain the batter into a jug and allow to stand for about 30 minutes.
Pour sufficient batter into the base of a moderately hot greased pancake pan, so that when the pan is rotated the batter just covers the base in a thin layer. When the surface begins to look dull on the top and the bottom is brown, flip the pancake over and cook the other side only until it is browned (about 1 minute). Stack the pancakes on top of each other until ready to use.
Filling
Carefully stir the blueberries, ricotta and caster sugar together. Divide the mixture evenly between the pancakes, roll up or fold over to enclose the filling and serve dusted with icing sugar.