Add to Cookbook

Rich pinot chicken with mushrooms
30 minutes
in the slow cooker low 6-7 hours, high 3-4 hours
5-6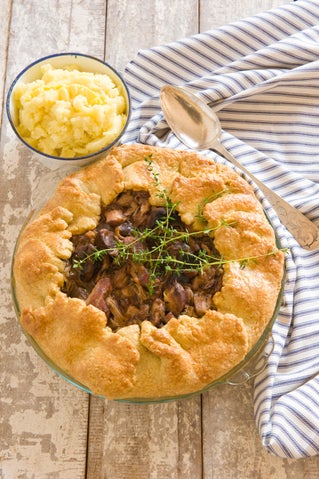 Simmering the pinot noir until it is reduced by half ensures that this chicken dish has a warm, mellow, gutsy wine flavour. I like to serve it blanketed under a sweetish ginger crust pastry - the flavours work well together and the finished tart looks stunning. The pastry also works well with beef and pork dishes, cooked in red wine.
Ingredients
2 cups pinot noir
12 chicken thigh portions, bone-in
2 bacon steaks or 6 rashers of bacon, diced
6 large flat mushrooms, quartered
¼ cup tomato paste
1-2 tablespoons chopped fresh thyme, optional
Method
Turn the slow cooker on to low to pre-warm while gathering and preparing the ingredients.
Put the pinot noir into a small saucepan and simmer over a moderate heat until reduced to 1 cup.
Heat a good dash of oil in a large frying pan and brown the chicken pieces and bacon well.
Into the pre-warmed slow cooker put the chicken, bacon and mushrooms. Mix the tomato paste and red wine together, pour into the slow cooker and cover with the lid.
Cook on low for 6-7 hours or on high for 3-4 hours.
Stir in the thyme if using and serve the chicken pieces with your favourite seasonal vegetables or accompaniments.