Add to Cookbook

Rice noodle and stir-fried beef salad with chilli and lime dressing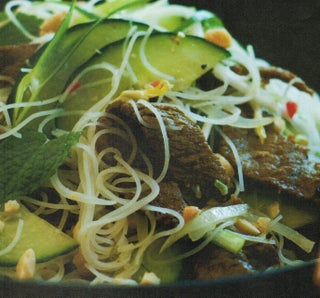 Use a fragrant sweet curry powder for an excellent stir-fry salad.
Ingredients
125 grams rice vermicelli noodles
400 grams lean rump steak, thinly sliced
1-2 tablespoons fish sauce
4 cloves garlic, peeled and sliced or 2 teaspoons minced garlic
3 teaspoons curry powder
1 cup bean sprouts
½ telegraph cucumber, halved lengthwise and finely sliced
¼ cup torn fresh mint leaves
1 small onion, peeled and thinly sliced
2 stalks lemon grass, white part only, finely chopped
2 tablespoons salted, roasted peanuts, chopped
2 tablespoons chopped fresh coriander
Chilli and lime dressing
¼ cup rice or cider wine
2 tablespoons fish sauce
grated rind and juice 1 lime
2 tablespoons sugar
1 red chilli, deseeded and finely chopped
Method
Soak the rice noodles in a bowl of warm water for 10 minutes or until soft. Drain well and set aside to cool.
Toss together the sliced beef, fish sauce, garlic and curry powder with a seasoning of ground black pepper. Cover and leave to marinate at room temperature for 15-30 minutes. (While marinating, use this time to make the dressing).
In a large bowl, toss together the bean sprouts, cucumber, mint and noodles and refrigerate until required.
Heat a dash of oil in a large frying pan or wok and stir-fry the onion and lemon grass for 2-3 minutes until the onion is tender. Add the beef and stir-fry on a high heat for 2-3 minutes until browned.
Toss the beef into the cooled noodle and salad mixture and mix gently with the chilli and lime dressing.
Serve garnished with the peanuts and coriander.
Chilli and lime dressing
In a screw top jar put the vinegar, fish sauce, lime rind and juice, sugar and chilli. Seal and shake to combine.
Cooks Tips
- For a dinner party, both the salad and beef can be prepared earlier and quickly cooked and assembled later. - To keep herbs fresh, wash under a running cold tap water and shake off excess water. Place in a plastic bag, blow up with your own air, seal and refrigerate. Repeat every other day.