Add to Cookbook

Rhubarb And Orange Muffins
20 minutes
20-25 minutes
Makes 12-16 standard muffins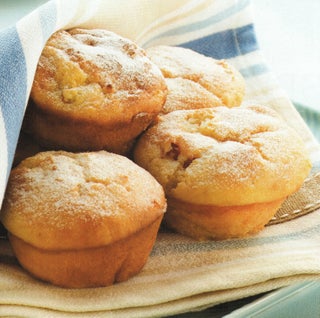 Rhubarb is one fruit that can easily be grown in your garden or in a large tub and harvested almost all year round - making great tarts, crumbles, cakes and muffins.
Ingredients
3 cups flour
¾ cup sugar
1 tsp each baking powder and baking soda
1½ cups unsweetened plain yoghurt
2 eggs
grated rind and flesh (not skin or pith) of 2 oranges
2 cups red-skinned rhubarb, finely sliced
100 grams melted butter
Method
Sift flour, sugar, baking powder and baking soda into a bowl.
In a food processor, blend together the yoghurt, eggs, and rind and flesh of the oranges until smooth.
Stir gently into the dry ingredients with rhubarb and butter.
Spoon mixture into greased muffin tins and bake at 200ºC for 20-25 minutes. Serve warm.
Cooks Tips
Buying: Look for plumb, red glossy stalks. Storing: Refrigerate rhubarb in plastic bags - it will keep for three to five days - or chop and blanch, then freeze. Preparing: Discard the leaves, which contain high quantities of poisonous oxalates. Trim the root end of the stalks and cut into pieces. With older stalks, remove any coarse strings before chopping. Cooking: The simplest method is to poach rhubarb with a little sugar or honey; you might like to flavour it with orange, ginger, vanilla, cinnamon, nutmeg or angelica. Don't overcook rhubarb - it can quickly go from being too crisp to a mushy pulp. Also great for baking - add to muffins, cakes or pies. Spices that marry well with rhubarb include ginger, vanilla and cinnamon. Add a little of these to the muffin recipe.