Add to Cookbook

Relish and bacon pinwheel scones
15 minutes
15 minutes
Makes 18-20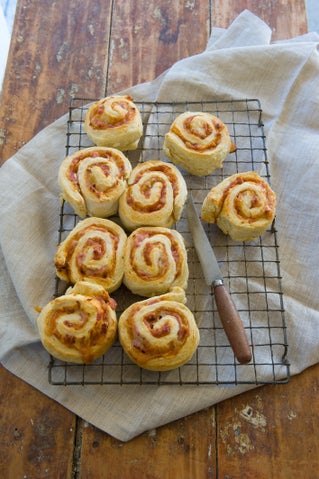 Tracey whips up these sensational savoury scones in a jiffy - they are favourites to take out on a muster or to have for morning tea. The filling, she says, will differ with what is in the fridge, so feel free to make up your own variations.
Ingredients
3 cups self-raising flour
½ teaspoon salt
50 grams butter, diced
1¼ cups milk
½-¾ cup relish
3-4 rashers bacon, diced
1 cup grated cheese
Method
Preheat the oven to 240ºC. Grease or line a baking tray with baking paper.
Sift the flour and salt into a large bowl and use your fingertips to rub in the butter. Make a well in the centre, pour in the milk and use a knife to mix quickly together to make a soft dough.
Turn out onto a lightly floured board and bring together. Roll out to a 25x35cm rectangle. Brush a 1cm wide strip around the edge with milk. Spread the relish over the dough and scatter over the bacon and cheese.
Roll up from the long edge to make a tight roll. Cut into 2cm wide slices and place on the prepared tray.
Bake in the preheated oven for 15 minutes or until well risen and golden. When the centre pinwheel is split open it should be light and well cooked, not doughy.
Transfer to a cake rack and serve warm with butter, if wished.
Cooks Tips
- If you do not have self-raising flour, use 3 cups plain flour and 6 teaspoons baking powder.