Add to Cookbook

Red lentil pasta sauce
without browning 10 minutes, with browning 20 minutes
low 4-5 hours, high 2-3 hours
5-6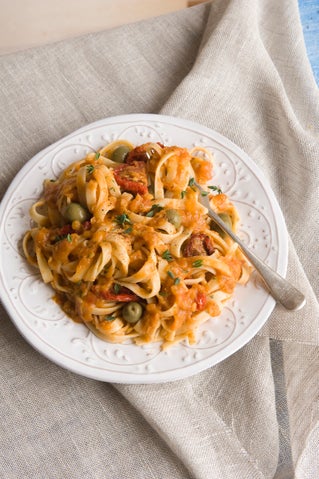 A great basic recipe to have at hand for vegetarian friends when you're looking for something new to cook. The sauce freezes well and makes a great mid-week meal served over a baked potato or kumara or tossed through your preferred chunky-cut pasta.
Ingredients
1 cup red lentils
1 onion, peeled and finely sliced
2 teaspoons minced garlic
½ cup tomato paste
4 large tomatoes, chopped
1 tablespoon chopped fresh rosemary
2 teaspoons dried basil
grated rind 1 lemon
4 cups vegetable stock or water
Method
Turn the slow cooker on to low to pre-warm while gathering and preparing the ingredients.
Rinse the red lentils thoroughly and drain well.
If wishing to brown the ingredients. Brown the onion in a good dash of oil in a heavy-based frying-pan over a moderately high heat until lightly browned. Add the garlic and cook a further 1-2 minutes until the mixture is fragrant.
Into the warmed slow cooker put the lentils, onion, garlic, tomato paste, chopped tomatoes, rosemary, basil, lemon rind and stock or water. Stir to mix the ingredients well and cover with the lid.
Cook on low for 4-5 hours or on high for 2-3 hurs, or until the lentils are tender. Season with salt and pepper once the lentils are cooked. If wished, mash the lentils with a potato masher for a smoother textured sauce.
For a thinner sauce, stir in extra hot stock or water before serving.
Toss the sauce through your favourite pasta, such as fettuccini, and garnish with olives, diced semi-dried tomatoes and picked fresh parsley leaves or whichever ingredients you prefer.
Cooks Tips
- Make a double recipe and freeze one half for later use. The sauce freezes wel. - If making this sauce ahead and reheating, you may require extra stock when reheating. Variations: - Use tomato paste that's pre-flavoured for pizzas; there are a number of brands available on the market. - To add a little meat, add a few rashers of diced, crispy, cooked and crumbled bacon before serving.