Add to Cookbook

Ratatouille (slow cooker method)
15 minutes
6-7 hours, high 3-4 hours
7-8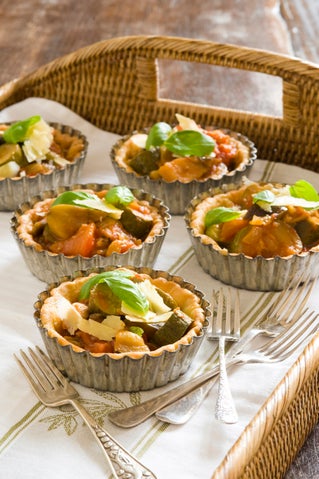 This classic dish hit fame around the 1970s as eggplants became available and people grew the rather 'new' vegetable, the courgette, which flourished in their gardens. The abundant crops meant people searched for a new way to present them - beyond stuffing and boiling! Ratatouille originated in and around Nice, in southern France, and its name translated means 'a coarse stew'. No doubt its popularity was assisted by the celebrity chefs of the time, Robert Carrier and Graham Kerr, who popularised cooking from the Mediterranean on the earliest food shows, though black and white television did not really do justice to the wonderful melange of colours of a good ratatouille. If time permits, brown the eggplant and courgettes too as that will enhance the colour and flavour.
Ingredients
2 onions, peeled
1 green capsicum
1 red capsicum, optional
1 large eggplant
1 kilogram courgettes
1 kilogram ripe, juicy tomatoes
¾ cup olive oil, virgin olive oil is nice here
8 cloves garlic, peeled and sliced
½ cup tomato paste
1 cup loosely packed fresh basil leaves
Method
Turn the slow cooker on to low to pre-warm while gathering and preparing the ingredients.
Chop the onions into smallish diced pieces, but not too fine. Cut the capsicums into 2-3cm sized pieces. Cut the eggplant into large chunks, the courgettes into thick slices and the tomatoes into chunky wedges.
Heat half the oil in a large frying-pan and, when hot, cook the onions and garlic over a moderately high heat until well browned but certainly not burnt. Stir regularly. Transfer to the pre-warmed slow cooker.
Add the remaining oil to the pan and cook the tomato paste in the oil, stirring constantly until it turns a deep brown/red colour. Add half of the tomatoes and toss with the tomato paste. This will help lift any brown sediment easily from the base of the frying pan to be added to the slow cooker as it is full of flavour.
Into the slow cooker add all the tomatoes and tomato paste, courgettes, capsicums and eggplant. Mix all the ingredients together as well as you can and cover with the lid.
Cook on low for 6-7 hours or on high for 3-4 hours.
Stir in the basil leaves and season with salt and pepper. Serve hot, or allow the ratatouille to col and serve just warm. Either way, serve drizzled with extra olive oil, fresh basil leaves and a little shaved Parmesan if wished.
Cooks Tips
Variations: - Serve the ratatouille in pastry cases as an entree or as a light lunch option (see rich short pastry). - For a non-vegetarian option, pan fry 3-4 roughly chopped bacon steaks with the onions, or even chopped, thickly cut pancetta slices. - Add ½ cup brown or green lentils and 1 cup water. - Stir in 1 cup toasted pine nuts and 1 cup whole black juicy olives before serving with grated Parmesan or pecorino cheese on top. - Add well-drained anchovies to taste and a tablespoon or two of capers before serving. Finish with crumbled feta or grilled halloumi cheese on top as a garnish. - Add 250 grams blanched greens beans after cooking and fold through chunks of mozzarella before serving with piles of basil and dill.